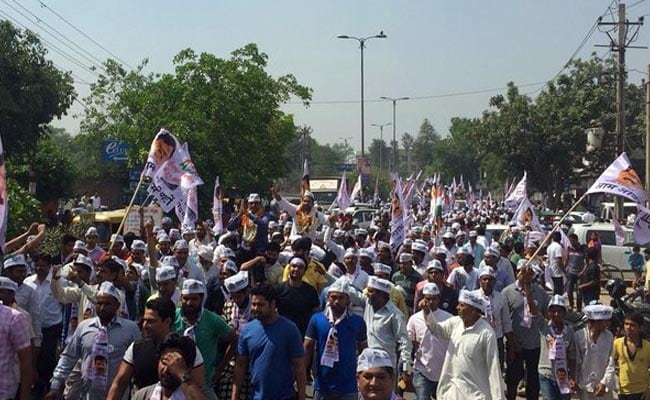 New Delhi: The BJP, which has been controlling all three civic bodies of Delhi for a decade, has decided to drop all sitting candidates this time -- electing to, as it says, bring in a "fresh team for the next 10 years". Its chief opponents, Aam Aadmi Party leader Arvind Kejriwal and the Congress, have demanded that ballot papers be used during the election to keep out the possibility of rigging -- a plea the by Election Commission has turned down. The election to the three municipal corporations will be held on April 22, while counting will take place on April 25.
Here are the 10 facts in this big story:
The Delhi State Election Commission has said there is little time left for before the civic polls which is not enough to make the switch to ballot papers.
State Election Commissioner S K Srivastava said if the Delhi government wants voting through ballot papers, rules have to be amended first, which takes a lot of time.
For the first time in Delhi's civic elections, the voters will be able to exercise the "None of the Above" (NOTA) option, the state Election Commission has said.
The BJP has said it will field fresh candidates. "Even family members of the councillors and party leaders will not be given tickets... We are preparing a new army for next 10 years. We want 'Sabka Sath Sabka Vikas' in Delhi," said Delhi BJP chief Manoj Tiwari told reporters
After the BJP's sweeping victory in the Uttar Pradesh Assembly Elections, Bahujan Samaj Party chief Mayawati had called for a switch to ballot papers, alleging that EVMs or Electronic Voting Machines, make rigging easy.
EVMs were used in MCD elections in 2007 and 2012. By-elections to some municipal seats had also been held in 2013 and 2016 through EVMs as well.
Delhi Congress chief Ajay Maken had asked Chief Minister Arvind Kejriwal to take steps to ensure that EVMs are not used in the elections which will be held on April 22.
The BJP's move to field fresh candidates is seen as a move to pre-empt charges of corruption from AAP, for whom these elections are crucial. Delhi's ruling party has failed to open account in Goa and came a poor second in Punjab in the recently held assembly elections.
Delhi has three civic bodies - the North Delhi Municipal Corporation or NDMC, the South Delhi Municipal Corporation or SDMC and the East Delhi Municipal Corporation or EDMC.
Altogether, there are 272 seats in the three civic bodies of Delhi. The BJP has 153 councillors.