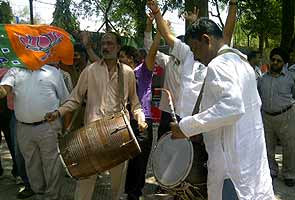 New Delhi:
There are euphoric celebrations at the BJP's office in Delhi. And there is little activity at the Delhi Congress headquarters. Therein lies a tale - the BJP is certain to retain its hold over Delhi's civic body - the Municipal Corporation of Delhi (MCD).
The BJP is leading in 146 of the 272 wards; the Congress is leading in 75, a gain of 9 over the last time, almost all at the cost of the BJP. The party's improved performance, however, is not enough to prevent a BJP victory. The counting of votes for the three newly-created municipal corporations began at 8 this morning. Results for only three wards are yet to be declared.
(MCD elections: Live Results)
|
(Ward search)
In the three regions that the MCD is now divided into, the BJP managed a great performance in North Delhi and decent ones in South and East Delhi. This is the first municipal election after the MCD was divided.
As it became clear that the BJP would continue to be at the helm of affairs in the MCD, a smiling party president Nitin Gadkari held a press conference in the capital. "We have had majority in all three zones. We have done a good job and the public has supported us. As long as Congress is concerned, the issues of price rise, corruption and anger over it has come out this time against the UPA," he said. The MCD election result, he added, will reflect in next year's Assembly polls. "The BJP is emerging as an alternative," he confidently declared.
(Watch) | (
Delhi has voted against 'misrule' of Congress: Gadkari)

Mr Gadkari's party says more than local issues, people voted on the Congress' performance in Delhi and at the Centre. "Anti-incumbency was against the Congress government in Delhi and the Centre...Trifurcation of MCD has not helped the Congress get any political advantage," BJP's Delhi veteran VK Malhotra said.
While the BJP was all smiles over the results, the Congress sought to downplay it saying it should be seen "only as civic polls." The party insisted that the results would have no bearing on Delhi Assembly elections, due in about 18 months. "Last time the BJP had won the MCD polls but Congress came to power in Assembly. The Congress even went on to win all the seven Parliament seats. MCD polls should be seen only as MCD polls," Congress spokesperson Rashid Alvi said.
In the 2007 elections to an undivided MCD, the BJP had won 144 wards against the Congress' 59 and the BSP's 12.
Polling for all the wards spread in three corporations - East, South and North - was held on Sunday when over 55 per cent voters came out to vote. There are 104 wards each in the South and North corporations and 64 in the East. Of these, 138 seats are reserved for women. South has the highest number of 904 candidates followed by North (885) and East (634).