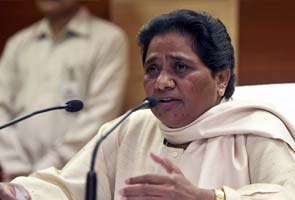 Lucknow:
Ahead of Uttar Pradesh Assembly elections, Chief Minister Mayawati today announced formation of three new districts in the state drawing sharp reaction from the Opposition which dubbed the move as politically-motivated.
Addressing public meetings at Sambhal and Hapur, the Chief Minister announced the formation of Prabuddha Nagar, Panchsheel Nagar and Bhim Nagar as new districts.
With these the total number of districts in the state would rise to 75, officials said here.
The step was in line with Dalit icon Bhim Rao Ambedkar's thinking that small units help in better administration, the Chief Minister said in Sambhal.
"BSP has always been in favour of smaller states, and new districts and divisions have been set up in all my previous regimes," she said.
Mayawati said she favoured trifurcation of the state and had written a letter to the Union government in this regard.
However, the Centre "never cared to reply", she added.
Reacting to Mayawati's announcement, BJP state president Surya Pratap Shahi said she did nothing during her rule except building parks and statues.
"Now she wants to gain political mileage ahead of polls by announcing formation of three new districts," he said.
The Samajawadi Party said the move amounted to playing fraud with the people on the eve of Assembly elections. "It is a fraud with the people of the state," party's state unit chief Akhilesh Yadav said.
Congress spokesman Subodh Srivastava said, "Mere creation of new districts and posting of officials do not ensure development".