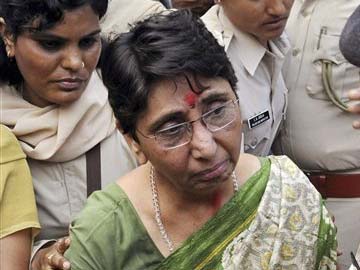 Ahmedabad:
Former Gujarat minister Maya Kodnani, who was sentenced to 28 years in jail for murder during the 2002 riots, has been granted bail by the Gujarat High Court on health grounds. She was the most high-profile figure to be convicted in connection with the riots.
Ms Kodnani, 60, is undergoing treatment at the Ahmedabad civil hospital for acute depression.
The former minister for women and child welfare was convicted in August 2012 for the Naroda Patiya massacre - one of the bloodiest episodes in the three-day riots in which over 1,000 people, mostly Muslims, were killed. A gynaecologist and a legislator at the time, she had been charged with leading a mob which killed 97 people.
Known to be close to Prime Minister Narendra Modi, who was then Gujarat chief minister, Ms Kodnani was appointed as a minister in 2007. But she resigned the post after her arrest in March 2009.
In November 2012, Ms Kodnani was granted bail for three months on health grounds. But her condition deteriorated and in February, she was admitted to a government-run hospital, where she was given electric shock therapy. Doctors attending on her said she displayed suicidal tendencies and did not respond to aggressive medication. Her condition is yet to improve.
In February, Ms Kodnani applied for a six-month extension of the bail. Though the Gujarat High Court turned down the plea, the Supreme Court gave her some relief by giving her a week's bail.