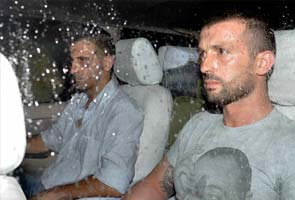 New Delhi:
The Supreme Court will today resume hearing the appeal by the Italian government for quashing the case against its two marines who were charged with murder by the Kerala Police for allegedly killing two fishermen.
Last Thursday, the Central government had told the court that two Italian Marines enjoyed no sovereign immunity and were liable to face prosecution under the Indian laws.
Additional Solicitor General (ASG) Gourab Banerji had told the bench of Justice Altamas Kabir and Justice J Chelameswar during the hearing last week that armed forces personnel of foreign countries did not enjoy any sovereign immunity and such privileges were provided only to their diplomats.
Mr Banerji contested the maintainability of the Italian government's writ petition by invoking Article 32 of the Indian Constitution, saying that there could not be any violation of the rights of the sovereign Italian state.
Article 32 of the Constitution provides for the remedies for the enforcement of the fundamental rights conferred by the constitution.
The ASG said this during the hearing of the petition of the Italian government and its two Marines seeking the quashing of charges against them and the suspension of their trial in the killing of two fishermen on February 15.
Chief Master Sergeant Massimilano Latorre and Sergeant Salvatore had shot dead the fishermen, allegedly suspecting them to be pirates.
The Marines have challenged the Kerala High Court order dismissing their petition claiming sovereign immunity.
The high court while rejecting the plea of sovereign immunity by Italian Marines had imposed a fine of Rs.1 lakh on each of them.
(With inputs from IANS)