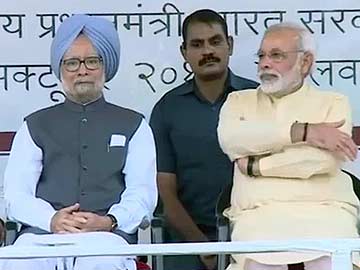 Jabalpur:
Prime Minister Manmohan Singh today launched a scathing attack on BJP's prime ministerial candidate Narendra Modi, accusing him of resorting to falsehoods to target rivals, saying he is twisting facts for political gains. (
Profile of Narendra Modi's rise
)
Addressing a rally in Jabalpur, Madhya Pradesh, he blamed BJP for bringing down the standard of political discourse and vitiating political atmosphere, asking people to "think seriously" what the party which believes in "demeaning others" will do to the country.
"In his zeal to malign others, a big BJP leader often resorts to falsehoods. He frequently distorts historical facts. Once in his enthusiasm to attack Congress, he misrepresented facts about a leader who is respected a lot in BJP," he said in an apparent reference to Modi.
In a hard-hitting speech, Singh took jibes at BJP and said its enthusiasm was confined to criticising others. It was only interested in levelling personal attacks on other leaders, he said.
"It is good for our democracy that political parties have enthusiasm. But it should be for constructive work. This should be used to tell people what good they will do if voted to power. It seems to me, though, that the enthusiasm of BJP leaders is all about condemning others," he said.
"In the last few months, we are seeing a lot of negative politics and the standard of political debate has gone down drastically," Dr Singh said, accusing BJP of starting it all.
He asked people to defeat Shivraj Singh Chouhan government in Madhya Pradesh, saying the BJP-ruled state lags on several development indices.
The infant mortality rate is more than many other states and 20 states lead MP in literacy rate, he said, adding that literacy among women is lower in MP than the national average.