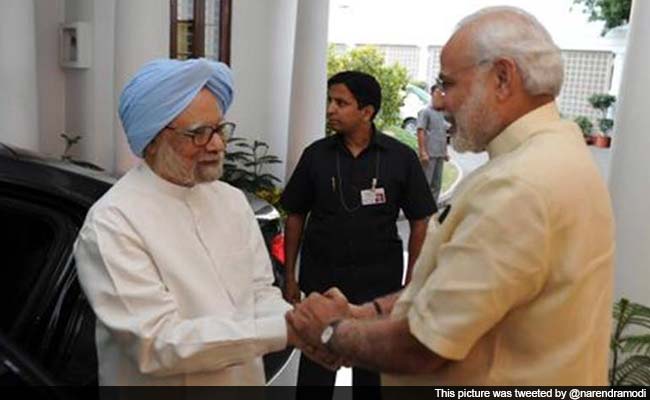 New Delhi:
Former Prime Minister Manmohan Singh today ripped into the Narendra Modi government's claims on economic revival. The Congress, he said, must not be defensive about its tenure at the Centre, since many of its initiatives are being repackaged by the NDA government.
Regarding Prime Minister Narendra Modi, he said, "I have to acknowledge that my successor has been a more adept salesman, event manager and communicator than me".
Addressing the meeting of the Chief Ministers of the Congress-ruled states, Mr Singh said, "There is somewhat of an euphoria that our GDP growth since 2014-15 has started accelerating once again."
But doubts have been expressed both within and outside Government about the validity of the new GDP numbers, he said.
In comparison, the UPA, he said, had achieved a 7.5% annual economic growth, which made possible its "stellar performance on social sectors".

Mr Singh also said the Goods and Services Tax bill, in its present format, won't help the Centre or the states. The Congress has staled the passage of the bill in the budget session, claiming it wants a parliamentary committee to scrutinize the amendments made by the BJP.
"We made every effort to make GST a reality but we were up against an obstructionist BJP," Mr Singh said. "Now, the BJP has become the greatest champion of GST, but I am not sure that the law we are presently considering is best route forward," Mr Singh said.
Arguing that of revenue-neutral GST rate is in excess of those prevailing elsewhere, he said neither Centre, nor the states will derive any benefit from it.
Seeking to rejuvenate the Congress after its worst debacle in the Lok Sabha polls, Congress chief Sonia Gandhi had called the meet, which is expected to focus on failures of the Narendra Modi government, which recently completed a year in office.
Though the party has so far not made the agenda public, the government's "failure" to address the problems of farmers and the gloomy agrarian situation, particularly after forecast of a deficient monsoon, are expected to be taken up in a big way.