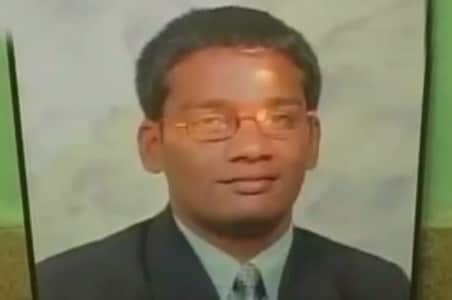 Lucknow:
The Lucknow Bench of the Allahabad High Court on Friday commuted the death sentence of main accused Pawan Kumar Mittal to life imprisonment in the Manjunath murder case.
The court also acquitted two co-accused, Harish Misra and Sanjay Awasthi, while maintaining the life imprisonment of five others in the case.
The bench consisting of justice K K Misra and Dharamvir Sharma dismissed the appeals filed by accused Pawan Kumar alias Monu Mittal , Devesh Agnihotri , Rakesh Anand , Vivek Sharma, Shivkesh Giri alias Lalla Giri and Rajesh Verma.
Must read:
Remembering Manjunath, killed for honesty
The judgement came on the appeals filed by those convicted of killing the Indian Oil Engineer and whistleblower Manjunath in the Lakheempur Kheri district of Uttar Pradesh.
All were convicted for murder of Indian Oil Corporation officer Manjunath in Lakhimpur Kheri district of Uttar Pradesh on November 19, 2005 by the session judge Mr S M Abdi.
Monu alias Pawan Kumar was sentenced to death for hatching the conspiracy to kill 27 year old Manjunath Shanmugam, the Indian Oil Executive who seized his petrol pump for selling adultrated fuel. Seven others were given life terms for being accomplices in the murder.
It was after an expeditious trial of 16 months that all 8 were found guilty of killing Manjunath in March 2007. Two months later they moved high court challenging their conviction and sentencing.
In the high court the prosecution argued that circumstantial evidence was credible enough to convict the accused but the defence maintained that this was a case of no direct evidence. Judgement was reserved in April this year but was delayed as one of the judges fell ill.