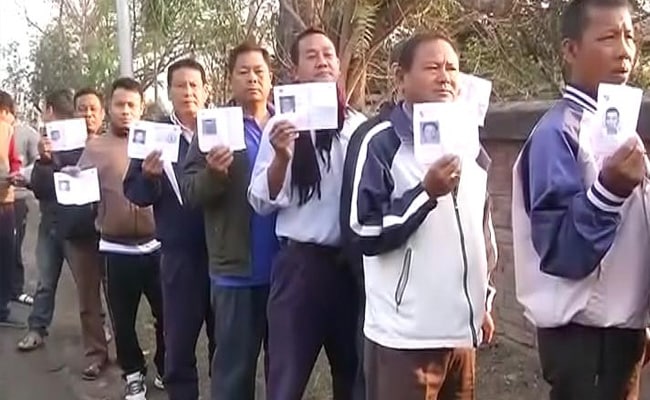 Imphal:
Manipur will witness its second and final phase of assembly elections today. As many as 22 constituencies spread across six districts will go to the polls today and 98 candidates will test their fate in this phase. The districts that will witness the election today include Chandel, Imphal East, Senapati, Tamenglong, Thoubal, Ukhrul. Human rights crusader Irom Sharmila will take on Chief Minister Okram Ibobi Singh in this phase. Campaigning for the second phase ended on Monday 22. The first phase of polling on March 4, covering 38 constituencies, recorded an overwhelming voter turnout. Twenty-two candidates of BJP and 76 from other regional parties, including independents, are in the fray today. Election Commission officials said special measures would be taken that includes deployment of helicopters to airlift polls materials, officials and security personnel to and from remote polling stations.
Twin blasts in Kamjong district today have put the security on high alert, making the Central Reserve Police Force's fears come true. On March 2, two days before the first phase of election, eight persons were injured in an IED blast in Imphal West district.
Out of the 98 candidates only one from the BJP has declared criminal cases against him. Mayanglambam Rameshwar Singh from Kakching constituency in Thoubal district has a charge related to cheating and dishonesty, including delivery of property under the IPC, a charge related to criminal breach of trust and criminal conspiracy.
Party wise break up of candidates with declared criminal cases - Phase 2
Party
Total number of candidates analysed
Candidates with Declared criminal Cases
BJP
22
1
Others
76
0
TOTAL
98
1

Source : ADR