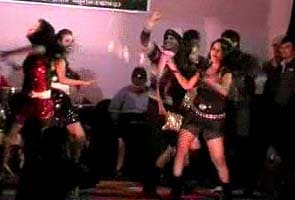 Kolkata:
The Trinamool Congress has suspended three members for holding a 'vulgar' dance show at a function organised near Kolkata to celebrate the 15th anniversary of the party.
At the function, dancers performed on stage while a man, reportedly a party member, climbed onto stage and threw money at them.
The programme was organised in Bhangore, a nearly 40-minute drive from Kolkata by district-level leaders.
"This is not the Trinamool we know," said party MP Derek O'Brien. "There were thousands of events held yesterday for the party," he said, "this one was in very bad taste."
India is in a sombre mood after a 23-year-old medical student who was gang-raped on a moving bus in Delhi died in hospital over the weekend.
The overwhelming anger and grief over her attack was corroborated by daily demonstrations, most of them in Delhi, with protestors demanding better safety for women and strict laws to punish those convicted of sexual harassment and assault.
"This is very sad and shocking. This is not the whole culture in Bengal. When so much is happening, when the girl died, you don't expect such things from any political party. When you see these things, you feel very sad. This is not the whole, total face of Bengal. I have never seen any such thing in my life," said noted theatre director and actor Usha Ganguly.
The programme, which was held right in front of a local police station and without permission, began airing on local television channels last night after which the police swung into action and stopped the show around 11:30 pm. Sources say that the police acted after a phone call from a leader high in the Trinamool hierarchy.