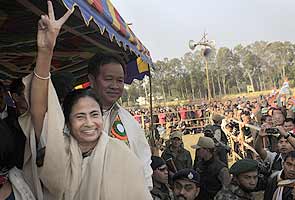 Kolkata:
The Mamata magic remains intact a year after she powered a historic victory against the Left in West Bengal and became the state's Chief Minister. Her Trinamool Congress has won four of the six civic bodies. However, the CPM held onto Haldia near Nandigram, which is being seen as a setback for Ms Banerjee. Cooper's Camp, traditionally a Congress stronghold, did not break its habit.
The Trinamool and the Congress, allies in the central and state governments, contested the civic elections separately. "This result proves Trinamool has enough strength to rule Bengal and to fight the next election alone, according to their strength," said party leader Mukul Roy, who is also the country's Railways Minister.
These are the first elections in the state since Mamata Banerjee's Trinamool Congress ousted the Left, which had ruled for three decades, in a landslide victory in the 2011 Assembly elections.
The Congress leaders say Lok Sabha elections still two years away and there is enough time for the twoparties to sit and work things out. Pradip Bhattacharya, a Congress leader from West Bengal pointed out, "They have lost prestige fights. Inspite of that if they are encouraged by this election results to fight alone and they are very enthusiastic to fight alone, let them be enthusiastic and fight alone. No problem. God bless them!"
Ms Banerjee's defeat in East Midnapore district's Haldia municipality may worry her party because of its proximity to Nandigram, where the Chief Minister had led many protests against the acquisition of land owned by farmers in the area. Her campaign against the then Left government's attempt to allow industry to develop this area was one of the major reasons for her blazing victory in the state elections last year.
The Trinamool has won the four municipalities of Durgapur, Panskura, Nalhati and Dhupguri.
The Trinamool snatched the Dhupguri municipality in the Jalpaiguri district in the north from the Left. This is a major gain for Ms Banerjee's party since the Left retained the Dhupguri assembly seat last year despite losing the state.
The Trinamool also won Burdwan district's Durgapur Municipal Corporation, which the Left Front has lost for the first time in 15 years.
Ms Banerjee's party retained the Panskura municipality in East Midnapore district, and it triumphed in the Nalhati municipality in the Birbhum district. Embarrassing the Congress since Finance Minister Pranab Mukherjee's son, Abhijit, had campaigned here.