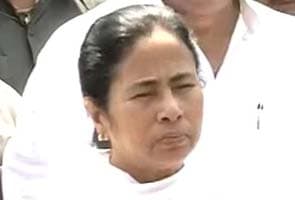 Kolkata:
West Bengal Chief Minister Mamata Banerjee, who was hospitalised after complaints of breathing problem and palpitation, has been advised total rest by doctors who described her condition on Thursday as stable.
Doctors at the premier Belle Vue clinic, where Ms Banerjee is undergoing treatment, said she had pain in her shoulder and waist and was under close surveillance and given the advice to not do any official work for the time being.
The Chief Minister was admitted with complaints of palpitation, breathing trouble and acute joint pain in shoulder and waist shortly after her return from Delhi on Wednesday.
"She is stable but under continuous monitoring by doctors. She was administered oxygen last night as per requirement. Her pulse rate is low and palpitation is there," Dr Subroto Moitra, head of the 10-member medical team attending her, told reporters.
He said Ms Banerjee had undergone several investigations and MRI and CT scan reports were expected on Friday. She had problems on her left knee and was suffering from pain, for which she was given medicines and sedatives.
The doctor also said she had some problems in her waist which would be cured by physiotherapy.
Clinic chief executive officer P K Tondon said the chief minister was resting and her condition was stable. But she was being monitored closely.
Mr Tondon said some tests including MRI, CT scan and blood examinations had been done and some more tests were likely to be carried out.
Before leaving for Kolkata, she was examined on Tuesday by doctors at the AIIMS in Delhi who advised her to get admitted and stay under observation.
The Chief Minister faced obstruction while entering the Yojna Bhavan building in New Delhi on Tuesday by Student Federation of India (SFI) activists during an agitation and her Finance Minister Amit Mitra was also heckled.
Ms Banerjee subsequently took ill and was administered oxygen while Mr Mitra was put under observation at AIIMS.
She cancelled her meeting with Prime Minister Manmohan Singh and another with Union Finance Minister P Chidambaram and left for Kolkata.