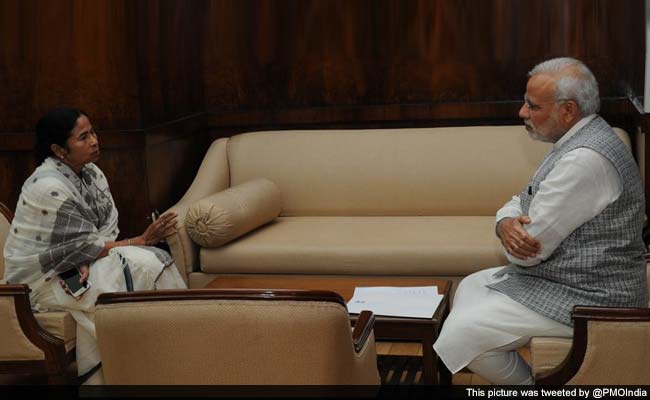 New Delhi:
West Bengal Chief Minister Mamata Banerjee today met Prime Minister Narendra Modi and sought Rs 21,000 crore for flood relief package for undertaking rehabilitation and reconstruction work in the flood-devastated areas of the state .
Ms Banerjee submitted a memorandum to the Prime Minister seeking funds to tide over the flood crisis and also urged him to convene a special NITI Ayog meeting involving all Chief Ministers in the country to decide the plan size of states.
"12 districts of the state have been badly hit with 13 lakh hectares of agricultural land damaged and about one crore people affected in the severe flood. I have given a memorandum to Prime Minister with all details of the loss and sought Rs 21,000 cr to carry out rehabilitation and reconstruction work," she said after her meeting with Mr Modi.
The affected districts included Birbhum, Burdwan, Bankura, Purulia, Murshidabad, South 24 Pargana, Howrah, Mednipur, Nadia and Hooghly were badly affected due to the recent floods in the state.
She has also requested the PM to consider a programme of loan waiver, restructuring and grant of fresh loans to farmers as the floods have severely damaged their crops.
Asked about the PM's response, she said, "he has assured that he will look into it."
Raising the issue of deciding state's plan size, Ms Banerjee said, "these days group meetings are being held by NITI Ayog on different subjects. I have requested the PM to organise an exclusive NITI Ayog meeting inviting all Chief Ministers to decide the plan size. Earlier Planning Commission used to do this exercise."
She said Prime Minister was very positive about the proposal for convening a special NITI Ayog meet to discuss states' plan size.
Banerjee has also raised the issue of increasing the storage capacity of Damodar Valley Corporation (DVC) so that flood impact on Bengal, Bihar and Jharkhand can be minimised.