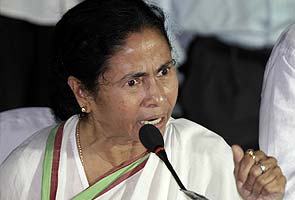 UPA's biggest ally, TMC's Mamata Banerjee has pulled out of UPA government, leaving it in a minority. As the government scrambles to take stock of the situation, here is what other leaders have to say:


Chidambaram, Finance Minister:
We have tried to speak to Mamata Banerjee four days ago. The Prime Minister tried to speak to her. We have left her a message to speak to us. We have not heard anything. If they want to talk we will explain it to them. The circumstances compelled us to take this decision and these decisions were taken after the most careful considerations.

Nitish Kumar, Bihar Chief Minister:
Bihar has 40 Lok Sabha seats and for any government to form in Delhi, Bihar's 40 seats are very important. Today Delhi is only looking at people with 3 or 4 seats, while here there are whole sale 40 seats, so if we exert pressure and reach Delhi and express what we want and that day is not far when we will get special state status and we promise that whoever will grant Bihar special status we will support them to form the government.


Naveen Patnaik, Chief Minister of Odisha, BJD:
TMC's withdrawal has left the UPA unstable and weak. There is no question of offering any support to the UPA.

Janardhan Dwivedi, Congress spokesperson:
We tried to speak with Mamata Banerjee on phone but we couldn't not reach her. We conveyed the message to Mukul Roy that Congress head would want to speak with her.
Sonia Gandhi has asked Congress Chief Ministers that now the government's decision of subsidising six cylinders should be increased to nine. Now nine cylinders will be given at subsidised prices.


Shahnawaz Husain, BJP spokesperson:
Everything should be rolled back, should go back to basics. The people of this country are looking towards Mamata Banerjee. Whoever is supporting Congress or UPA, they will be held equally responsible for Congress' wrong decisions. They must be equally brave as Mamata Banerjee is. Either she will force for total rollback or will send the government home.


Mulayam Singh Yadav, Samajwadi Party chief:
What has government given the people, price rise & corruption? SP's Parliamentary Board will meet tomorrow to decide the future course of action on support to government.
Saugata Roy, Trinamool Congress:
Mamata Banerjee has given 3 options: Increase cap on LPG to 12, reduce diesel price by Rs 3 per litre and remove FDI in multi brand retail. We will not make a compromise with respect to FDI. We have withdrawn support. We will give our letters to the President. We have a principle stand that we are in support of the people of this country.
Kunal Ghosh, Trinamool Congress MP:
Before accepting the resignation of Trinamool Congres ministers, the Prime Minister should step down and seek a fresh mandate on whether the country is permitting his policies or not.

Tariq Anwar, NCP:
In case there is a vote, we will be on the Government's side. I don't see any threat to the governmentt. We have support of both, Mamata and Mulayamji, from outside. I think they know that if they destabilise the governmentt by withdrawing support, it will benefit BJP.


Sultan Ahmed, Trinamool Congress leader and Union Minister of State for Tourism:
We have got a sense of freedom after quitting the UPA government... People of the country will realise why we decided to withdraw support to the UPA government and under what circumstances.
Digvijaya Singh, General Secretary, Congress:
This is just a political step (Mamata's decision to walk out of the UPA-2)...People do select government for five years and if government does not complete its tenure, then we are ready for mid-term polls.
FDI decision was taken in National Interest fully knowing it's Political fall out. I hope Govt would stand firm as it did in Nuclear Deal
Ravi Shankar Prasad, Chief Spokesperson, BJP:
The beginning of the downfall of the UPA government has started. Practically, it is now a Congress government... After the withdrawal of support by Trinamool Congress, a serious question mark is there on the stability of this government...We need to applaud and compliment Mamataji for taking such a bold stand, purely in the interest of the people of the country.

Ram Gopal Yadav, General Secretary, Samajwadi Party:
The Congress government is behaving as if it enjoys complete majority. It is taking decisions without consulting allies.
Bahujan Samaj Party:
It also wants withdrawal of reform measures, but is likely to support the government if it falls short of numbers in Parliament.
TKS Elangovan, Spokesperson, DMK
: There are various aspects of this issue... Our leaders are seriously thinking on this...We are a people-oriented party and will take decisions tomorrow...They may have some compulsions and we have our own policies.
Lalu Prasad, President, Rashtriya Janata Dal:
This is not a new thing...She changes her stand every second.
Gurudas Dasgupta, Leader, CPI:
According to all principles of parliamentary democracy, government should prove its majority on the floor of the House.

Sanjay Raut, Leader, Shiv Sena:
Mamata
Ji
has shown to be the undisputed tigress of Bengal by sticking to her word. Shiv Sena congratulates her for withdrawing support to the government as per her commitment. All UPA allies should follow her noble doing and stand by Mamata
Ji
."