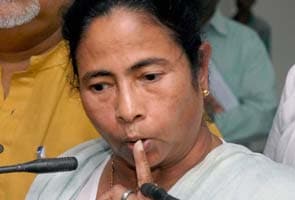 Chandpara, West Bengal:
West Bengal Chief Minister Mamata Banerjee has alleged that the CPI(M) had joined hands with Maoists to kill her in a bid to return to power in the state. Ms Banerjee also charged the Marxists for being hand-in-glove with the Congress and BJP in plotting against her.
"CPI(M) has joined hands with the Maoists in making a blueprint to kill me and to make room for their return to power in West Bengal which will never come off," Ms Banerjee thundered at her first panchayat poll campaign, near the border town of Bongaon in North 24-parganas district.
Unsparing in her charges against Congress and BJP, the Trinamool Congress supremo alleged that she had definite intelligence reports that a 'murder plot' was hatched during her visit to Kamduni village on Monday.
"Outsiders intruded the village when I visited the residence of the girl (gangrape victim who was brutally killed on June 8) and my security staff later told me that a murder plot was hatched against me there itself, which came to be known later," she said.
Ms Banerjee, who was peeved at angry demonstrations on Monday by some women for visiting the victim's house 10 days after the crime and not hearing them, alleged that CPI(M) organised the agitation and had a dig at two TV channels for allegedly provoking them.
"They (CPI-M) have joined hands with the Maoists, who were present at Kamduni village that day to kill me. A murder plot has been hatched against me. But I don't fear. They want to
exterminate me to pave way for their return to power, but that will not happen," she said.
Most of Ms Banerjee's speech was confined to bashing the CPI(M), but Congress and BJP too came under her attack. "I would like to tell you that CPI(M), Maoists, Congress and BJP have all joined hands to conspire against my government," she said, calling for foiling all such designs.
"So long as Ma, Mati and Manush (Mother, land and people) are with me, nobody can touch my hair. I never commit a mistake knowingly. I am not afraid to die," she said and alerted people against allowing CPI(M), Congress and BJP to reap political benefits when rape and murders take place.
Get Breaking news, live coverage, and Latest News from India and around the world on NDTV.com. Catch all the Live TV action on NDTV 24x7 and NDTV India. Like us on Facebook or follow us on Twitter and Instagram for latest news and live news updates.