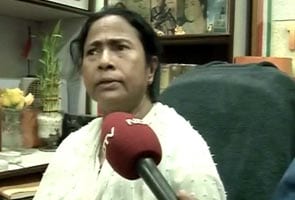 Kolkata:
West Bengal Chief Minister Mamata Banerjee admitted that resorting to bandhs during her days as opposition leader in the state was a "mistake". Her remarks came ahead of the nationwide industrial strike today.
Major trade unions across the country have called for the 24-hour strike to protest against the "anti-labour" policies of the government and rising prices.
The strike has so far had a mixed response. In West Bengal, state government-run buses, taxis, trams, trains and Metro rail services were normal though private buses were plying in fewer number.
Flight operations from NSC Bose international airport in Kolkata were normal. All morning flights of Air-India and other private airlines left Kolkata airport as schedule, sources said. However,
bandh
supporters blocked railway tracks in some places in Sealdah division.
The Trinamool Congress (TMC) supremo came down heavily on the "politics of bandhs". Ms Banerjee also warned state government employees that absence from duty will be treated as a break in service.
"We had also made mistakes by resorting to bandhs sometimes when we were in the opposition but later realised it is useless. We have corrected our mistakes. We think people have forgiven us for correcting ourselves for calling bandhs which were also done rarely," she told TV channels yesterday.
"If anyone admits a mistake after committing it, people forgive him or her," she added.
Today, Mr Banerjee ensured that state transport buses and trams are plying to facilitate passenger movement. However, according to reports, only a few people have come out of their houses in Kolkata in the wake of the bandh.
Reacting to the opposition to strikes by the leader of Congress's key ally Trinamool, Congress said it is "good news".
"It is good news if TMC is opposing the strike. I am sure she has her own reasons to do so. We appreciate her stand," Congress spokesperson Renuka Chaudhary said in Delhi.
Ms Banerjee said strikes had a negative impact on the state's economy "and it is widely felt everywhere".
"Strikes give rise to violence and destruction," she said, vowing to ensure law and order and peace tomorrow.
"Strikes and bandhs are expressions of frustration and it serves only vested interests," she added.
Ms Banerjee said her government would no longer allow any bandh politics in the state which witnessed state-sponsored shutdowns in the past.
Lashing out at the CPM and Left parties for choosing the "politics of bandhs", she said, "They have taken up the weapon of bandhs as a life-long method in the last 35 years."
(With PTI inputs)