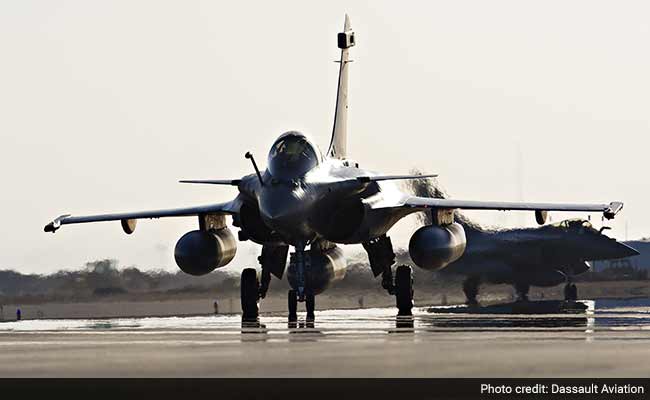 New Delhi:
Keeping up the offensive against the Modi government over the Rafale deal, Congress on Tuesday accused it of giving a go bye to its much-flaunted 'Make in India" programme while entering into an agreement for the purchase of the fighter jets from France.
"Modi government has converted 'Make-in-India' into 'Make- in-France' by this unilateral Rafale deal," Leader of the Opposition in Rajya Sabha Ghulam Nabi Azad told reporters after he and Leader of the party in the Lok Sabha Mallikarjun Kharge released a 'Report Card" of the one year of the BJP government.
The 42-page report card dubbed the deal as "one of the biggest failures" of the 'Make-in-India' programme.
Mr Azad insisted that the bidding process undertaken during the Congress government entailed that only 18 Rafale aircraft would be purchased in fly away condition. Remaining 108 aircraft would be manufactured under 'Transfer of Technology Agreement' by Hindustan Aeronautics Ltd.
This, he said, would have ensured 'Make-in-India' by creation of thousands of jobs and transfer of crucial cutting-edge technology.
Claiming that the 'Make-in-India' programme was just a hollow slogan, he said while the Modi government has gone ahead with mega shows and "event management theatrics", it has taken no concrete steps to address the challenges of building global competitiveness in manufacturing.
In the booklet titled "
Ek saal, desh badhaal
" (One year, country in distress), the Congress has declared "fail" the "suit-boot sarkar".
Only two days ago, former Union Minister and senior Congress leader Anand Sharma had questioned the government as to why was HAL kept out of the government-to-government agreement despite the fact that the state-owned company has assembly lines in view of its old collaboration with France on the Mirage deal.
Mr Sharma had also sought to know which private sector firm had been brought in and whether it was in the national interest to keep HAL out of the deal. Former Defence Minister AK Antony has also raised several questions over the deal.
During his visit to France last month, PM Modi had signed an agreement for buying 36 Rafale jets in fly-away condition at a cost of over USD 6 billion.