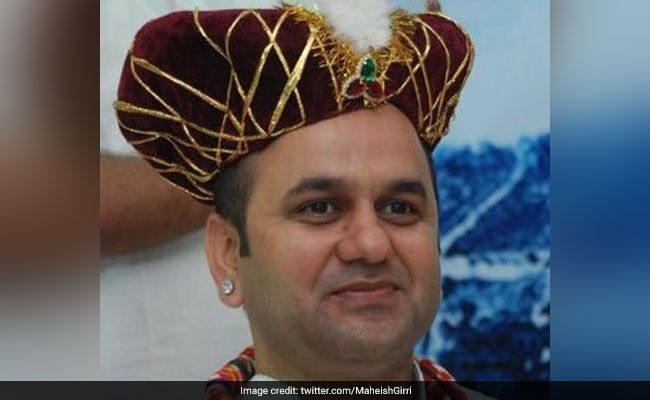 New Delhi:
BJP Member of Parliament Maheish Girri today dubbed Mughal ruler Aurangzeb a "terrorist" and hailed his brother Dara Shikoh as a scholar, who espoused "syncretic values", and pitched for building greater awareness about his life.
The MP from East Delhi was interacting with reporters on the side-lines of the inauguration of twin events- a conference 'Aurangzeb & Dara Shukoh: A Tale of Two Brothers' and an exhibition, titled, 'Dara Shukoh, the Forgotten Prince of Islam' at the IGNCA here. Dara Shikoh was also known as Dara Shukoh.
"Aurangzeb was a terrorist, in today's parlance... the punishment that he should have got he did not get, but at least, the road named after him, has been changed," he told reporters.
Aurangzeb Road in Lutyens' Delhi was rechristened Dr APJ Kalam Road in 2015. Mr Girri had sent a proposal to the Centre for renaming the street after the former president.
Muslim groups had objected to the New Delhi Municipal Council's decision to rename Aurangzeb Road, terming it a "deliberate" move that is "likely to set the trend of rechristening other cities/streets distorting history".
Earlier, addressing a gathering at the launch of the events, he said, "I used to feel extreme pain whenever I saw that signage of a road bearing the name of a cruel ruler. I felt it was against the idea of India and not in the interest of the country. So, I went after it (renaming)."
"I also faced obstacles and received threats from people, but I went ahead," he said.
The Lok Sabha member hailed the qualities of the Mughal emperor's brother Dara Shukoh, and said his life and times, and the values he stood for, should be taught simultaneously, while telling the story of Aurangzeb.
"When it comes to Dara, history has not been told or portrayed, the way it should have been. He stood for the true values of Islam unlike his brother, who was cruel and oppressed people," Mr Girri told reporters.
Dara Shukoh was the eldest son of Mughal emperor Shah Jahan, who his heir apparent. Aurangzeb got him killed in 1659.
"In schools, when you teach Aurangzeb, you must also teach about his brother. It will not only present a balanced perspective, but also help people judge the two as to who was good and was bad. If you just show Aurangzeb, that teaching of history is also wrong," Mr Girri said.
Former Speaker of Iranian Parliament Gholam Ali Haddad- Adel also hailed Shukoh as a "miracle of India".
"Instead of contemplating wars and bloodshed to expand the Mughal empire, Shukoh engaged in dialogue with people of different faiths and produced scholarly works. He promoted peace and co-existence," he said.
Later, on the sidelines, Mr Adel said, "The world needs to focus more on Dara Shukoh than Aurangzeb".
Vice President M Venkaiah Naidu, who was scheduled to inaugurate the two events, was not present because of his preoccupation with Parliament. The vice president is also the chairman of the Rajya Sabha.
The exhibition of nearly 30 paintings by contemporary artists in Mughal style, depicting the life of Dara Shukoh, hosted at the Indira Gandhi National Centre for the Arts (IGNCA), will end on Sunday.