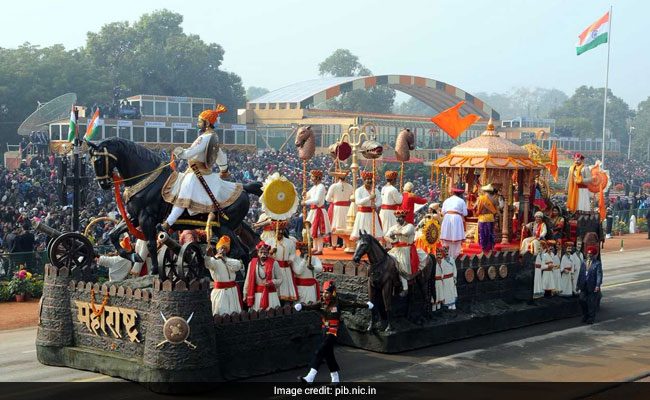 New Delhi:
The tableau from Maharashtra depicting the coronation of Chhatrapati Shivaji Maharaj at the Republic Day Parade at the Rajpath in New Delhi won the first prize, followed by Assam's tableau on traditional masks of the Satras.
The tableau of Chhattisgarh, which depicted Ramgarh's ancient amphitheatre in addition to artistes performing dance based on Kalidasa's 'Meghadootam', was awarded the third prize.
Defence Minister Nirmala Sitharaman presented the awards to the winning teams at an event in New Delhi today.
Among the three military services, the contingent from the Army's Punjab Regiment was awarded the best marching contingent trophy, while the Indo-Tibetan Border Police team won the best marching contingent prize among the para-military and other auxiliary forces.
In the category of tableaux representing Union ministries and departments, the best tableau award went to the Ministry of Youth Affairs and Sports. The tableau depicted 'Khelo India', the national programme for development of sports.
Fourteen states and Union Territories had presented their tableaux at the Republic Day Parade at the Rajpath on Friday, depicting the country's rich art and cultural heritage.
Nine central ministries and departments as well as central paramilitary forces had also presented their tableaux.
Among performances by schoolchildren, South Central Zone Cultural Centre's 'Baredi Dance' (from Madhya Pradesh) was awarded the first prize.