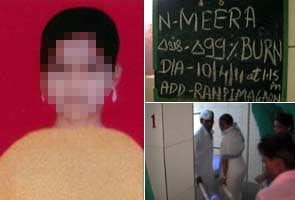 Mumbai:
For six days, she was raped repeatedly by a group of four men. The ringleader, Babulal Rasal, was not a stranger. Her father had worked for him for two years as a farm hand; he had recently managed to pay off Babulal's loan, which allowed him the freedom to find a new job.
On the seventh day, when Babulal decided he had punished her enough, he dropped her off outside her home.
On the eight day, she tried to set herself on fire in her village of Surmapuri in Maharashtra's Beed district.
She is sixteen. Her body is covered with severe burns. Doctors attending to her say she is unlikely to survive.
In this part of Maharashtra, farm owners are still accustomed to treating their help like bonded labour. The police believes that Babulal couldn't stomach the fact that the victim's father had been able to break what is usually an endless circle of loan and debt. In revenge, he kidnapped his worker's daughter.
''On April 5, my son and I went to the police station and registered a case against Babulal Rasal and Narayan Kale. The police said they will find my daughter. But they didn't do anything,'' said her father, flatly.
Babulal and his men allegedly moved the victim between three different small lodges, where they raped her.
Two men, including the key accused Babulal, have been arrested.