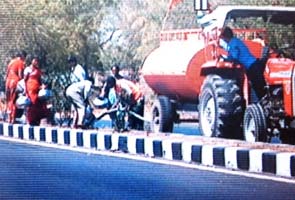 Kalegaon Siddhi, Jalna:
As Maharashtra's drought situation continues to version, tales of individuals doing their bit to mitigate the drought are also being reported from across the state.
After watching an NDTV report last month from Jalna, one of worst drought affected districts in the state, Kolkata resident Sumit Bhatt travelled more than 1500 kilometres to help. At present, Sumit is camping in Kalegaon Siddhi and arranging the distribution of water through tankers.
Sumit tells NDTV "Few days back when we saw the television and NDTV's coverage on the drought in Maharashtra, we were taken aback. We were shocked. We came all the way from Kolkata just to meet these people, just to understand their agony and to take this fight forward. We want everybody in the country to come forward and help Jalna and the Marathawada region."
His friend, Suryaprakash Bhatt adds, "When we saw the drought condition in some regions of Maharashtra on NTDV, we took a pledge not to play Holi with water and that's why we are here."
For the villagers, the water tankers, the first to have arrived at the village, are a blessing. One woman, who came to collect water as the tanker arrived, said, "We don't get water in the day at all .We get water from hand pumps for two hours every day but we still don't get water in spite of standing in the line for two hours . The tanker has come for the first time today. The government tanker has never come here before."
Another villager added, "They have come from Kolkata to help us by distributing water. We would like to thank them and NDTV as well."
An NDTV last month showed how villagers were begging for water on the highway from a tanker driver.