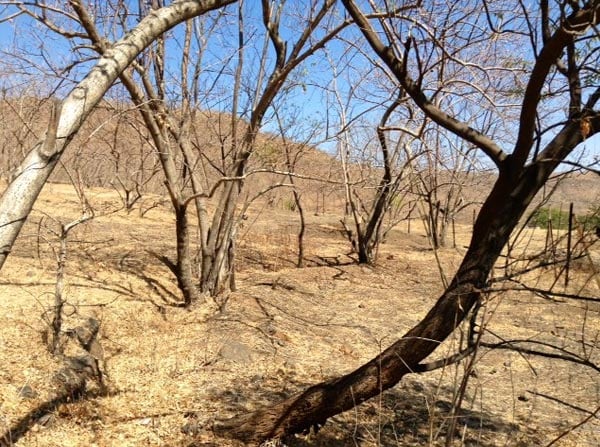 Mumbai:
His wrinkled face was enough evidence of the vagaries of nature he had battled all his life. Clad in a dull, unwashed dhoti and kurta, he sat along with a few other elderly farmers sat on a creaky wooden bench off the main road at Chaukha village, just 22 kms from Aurangabad city.
"No water means no work," he said nearly shouting through his paan-stained teeth, smoking a beedi and clearly inebriated. Perhaps to forget - even temporarily - the cruelty of the drought that's gripped Marathawada in Maharashtra, the worst since independence, according to some reports.
"There is no work that even government schemes can give us," another interrupted, embarrassed by his friend's drunken stupor - when asked if they had tried to avail work through the government's rural employment scheme or MNREGA.
Their grievance revealing the state of affairs for a large number of people in the region who are dependent only on farming. "I have not seen such a drought in the past 40 years. For the last few years the rainfall has decreased. But the severity is inexplicably intense this year," explained Vijay Pople who says he gave up on farming and moved to Aurangabad with his entire family to work as a driver a few years ago.
One of the biggest problems in this part of Maharashtra is that farmers have shifted from traditional to cash crops like cotton and sugarcane in the last decade because the returns are more lucrative. But they are more water-intensive.
So when a drought strikes, it's total destruction.
The last time villagers enjoyed water running through their taps was last November. Now, tankers arrive every few days and fill local wells.
If the rains this year failed, what made the situation so much worse is the non-completion of irrigation projects for which the Maharashtra government spent Rs70,000 crores in the past decade, a scam according to the opposition and activists as an economic survey said only 0.1 percent of additional land had been irrigated. A figure the NCP-led water resources department disputes claiming the figure to be 5.17 percent.
There are those who argue that it's not just dams or water canals that are needed. "This is more a man-made calamity than a natural one," explains Professor HM Desarda, a noted economist who was also a member of the state's planning board in the 80s and 90s. "The policies are skewed. The government hasn't focused on water-harvesting or on increasing forest cover which in turn will bring in more rain. In a region which is in the rain shadow, how can expensive irrigation projects help when it hardly rains?" Desarda explains.