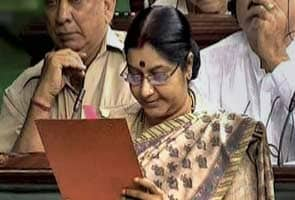 New Delhi:
Rahul Gandhi chose Friday's Zero Hour to make an aggressive and unscheduled speech on corruption and the Lokpal Bill, to cheers from the Treasury benches. The Opposition does not share in that delight, as was evident in the noisy disruptions yesterday.
Today, Leader of Opposition Sushma Swaraj slammed the Congress General Secretary for what she called his "lecture" to the Lok Sabha and even questioned the Speaker for relaxing convention for Rahul Gandhi, saying "Zero Hour is intended for debates, not for lectures to the nation."
To the Speaker, Ms Swaraj said, "You barely allow us three minutes. Rahul Gandhi spoke for 15 minutes. Was he making an address to the nation or an intervention in Zero Hour, I'd like to ask the Speaker."
Rahul Gandhi is not present in the Lok Sabha today and Ms Swaraj's criticism of him came dressed in a distinct smirk when she said, "We were hearing Rahul Gandhi would make a statement in the House on Anna. I looked behind to check if he was there, because he appears very rarely in Parliament. But records did not show his speech. Yet, he was allowed time for his statement. The PM came rushing in to listen to Rahul Gandhi. I thought Rahul, therefore, must be about to deliver some very important insight."
She ripped apart the content of Mr Gandhi's speech, saying it had "undone the statesmanship of the Prime Minister's speech" on the issue a day before.
Ms Swaraj also took umbrage at Rahul saying, "we need more democracy in our political parties...Fresh blood in our House... we owe it to the people of India," quoting from his speech, as MPs shouted.