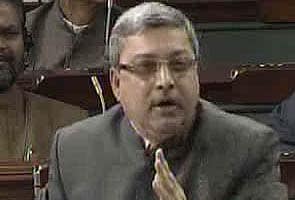 New Delhi:
UPA partners, Trinamool Congress and DMK, today struck a discordant note saying the Lokpal Bill provisions to create Lokayuktas would encroach upon the rights of the states.
"Don't undermine the rights of the state legislatures. Does the present legislation not take away the rights of the states?" Trinamool Congress MP Kalyan Banerjee asked.
He was participating in a debate in the Lok Sabha on the Lokpal Bill.
Banerjee said creation of Lokayuktas under Article 253 of the Constitution would make the central law mandatory for all states. This article provides for laws to give effect to international agreements and gives Parliament the power to make any law for the whole or any part of India.
DMK leader T K S Elangovan asked the Centre to keep the law-making powers of the states with them and protect their rights. "Please ensure that the law-making power to create the Lokayuktas remain with the states," he said.
Their comments, which were in line with other opposition and regional parties, came even as the Lokpal legislation tabled by the government in Parliament calls for creation of Lokayuktas in states.
Maintaining that through this bill, the Lokpal would become a "super-investigating agency", Banerjee also demanded inclusion of corruption by corporates, bankers and the media within the jurisdiction of the Lokpal.
The Trinamool MP also said that the bill had been brought and asked "why should it be passed within December 27? Is it because of hunger-strike by somebody? Dignity of the House should be maintained. No one can put it under pressure. It sends a wrong signal."