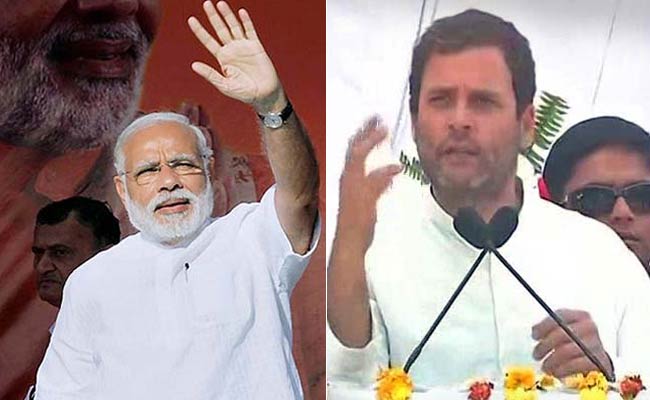 New Delhi:
Prime Minister Narendra Modi today mocked the Congress's proposed NYAY scheme which translates to "justice" in Hindi literally and claimed that the grand old party has finally agreed that injustice was done by them over the past 60 years. "Congress and dishonesty are best friends. But sometimes by mistake they end up speaking the truth. Now they are saying Nyay will happen. Even if they did not intend to, they have admitted that they had done injustice for the 60 years," PM Modi said at a massive rally in Theni.
PM Modi is addressing rallies in Tamil Nadu day after Congress President Rahul Gandhi campaigned across the state. He is in the state to campaign for the second phase of the Lok Sabha elections. Tamil Nadu votes in a single phase on April 18. From Tamil Nadu, PM heads to neighbouring Karnataka, where he will address public gatherings in Mangalore and Bengaluru.
The Congress chief, who paid a visit to Jallianwala Bagh in Amritsar, will travel to Karnataka where he is expected to address three rallies. Mr Gandhi visited a memorial in Punjab's Amritsar to pay tribute to the those who lost their lives in the massacre in Punjab's Amritsar on 1919.
Rahul Gandhi's sister, Priyanka, who has been made in-charge of eastern UP, will hold roadshows in Fatehpur Sikri and Aligarh today.
Voting for 543 Lok Sabha seats will be held in seven phases: April 11, April 18, April 23, April 29, May 6, May 12 and May 19. Counting will be done on May 23.
Here are the highlights of Lok Sabha election-related news:
BJP government is misusing CBI, ED against opposition leaders: Mayawati
"I want reply to Yogi that we have ali and also bajrangbali (Lord Hanuman).
BJP government is misusing CBI, ED against opposition leaders . It's similar to how the congress used to misuse the agencies in their tenure
Congress party making all kinds of lucrative promises to the poor . The party 's promise of giving Rs 6,000 per month to the poor is not going to help. If we come to power at the Centre , we will not give money to the poor but arrange for jobs. Would request the poor to ignore the inducements of the Congress.