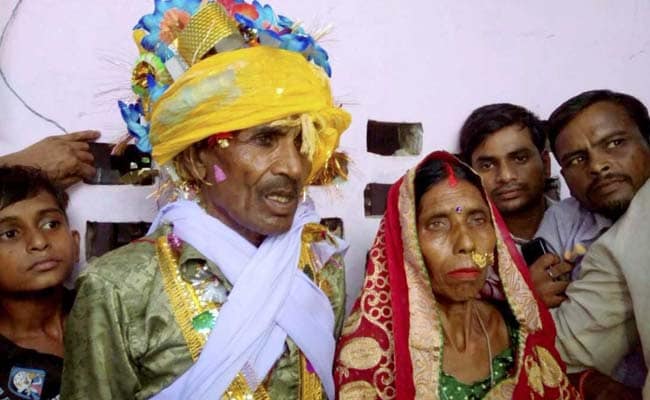 Lakhimpur Kheri:
Better late than never may well have been the maxim that prompted a couple in their seventies to tie the knot after living together for more than 30 years.
The 76-year-old man married his 70-year-old partner in the remote town of Mitauli in the district, 130 km from Uttar Pradesh's capital Lucknow, in a simple ceremony last night.
Farmer Nokhe Lal Maurya, who has two daughters from Rama Devi, said his married children had insisted that they wed.
"I too desired to do so to ensure that our relationship got social acceptance," he said.
Nokhe Lal, dressed up like a groom, reached the local Durga temple, leading a marriage party in which almost the entire village happily participated.
Rama Devi, in a bright bridal dress, was surrounded by her daughters and grand children.
The village priest performed the rituals and solemnised their marriage.
According to the villagers, Nokhe Lal had brought Rama Devi from a village in Sitapur in 1984 and the two had been living together since then.
But, after 33 years, when the family insisted that they marry, the partners agreed.
In a similar ceremony last week, a couple living together for 50 years got married in Madhya Pradesh to attain "moksha" or salvation after death.
Sukhe and Hariya wanted to marry when they fell in love 50 years ago. When their families opposed their union, they decided to move in together, undeterred by family opposition and social opprobrium.
But a longing for "moksha" prompted 80-year-old Sukhe Kushwaha and 75-year-old Hariya to solemnise their relationship on June 30 at Paitpura village, about 65 km from Tikamgarh.
The marriage ceremony was attended by their children and grandchildren, who were elated to see the couple tie the knot.