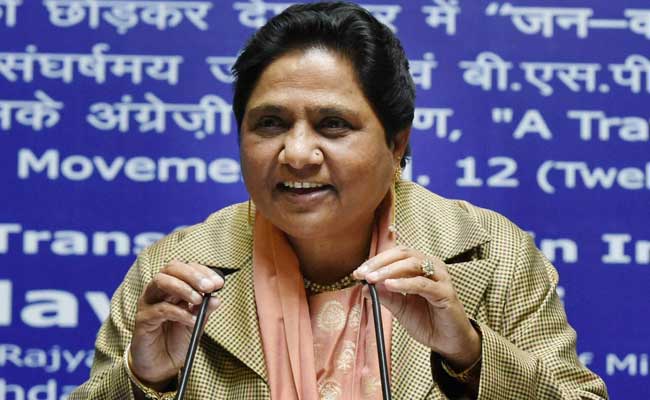 Bahujan Samaj Party chief Mayawati is addressing a press conference ahead of the five-phase Uttar Pradesh assembly elections, scheduled for February 11. In a huge outreach to the Muslim community, which forms 18 per cent of the state, the BSP has given tickets to 97 Muslim candidates. She is also expected to answer questions regarding the induction of Mukhtar Ansari, who has been accused in over 40 cases of murder and kidnapping, into her party. The 56-year-old Ansari is currently in a jail in Lucknow. The Ansari family is believed to have considerable influence in about 20 assembly constituencies in Ghazipur, Mau, Azamgarh, Ballia and Varanasi. The press conference also comes days after her political rivals Congress and Uttar Pradesh Chief Minister Akhilesh Yadav's Samajwadi Party forged an alliance for the state polls. Earlier today, BJP chief Amit Shah released the party's manifesto.
Here are the live updates of Mayawati's press conference:
The BJP has no right to announce a political manifesto for Uttar Pradesh.
PM Modi in 2014 had promised a lot in the Lok Sabha elections in UP. He had said that he wanted to provide electricity to all the people of Uttar Pradesh, he said we will do a lot in 20 days and 30 days.
In 2014, he had promised that he will bring all the black money from the foreign countries to India.He has not finished even one fourth of his work.


(Except for the headline, this story has not been edited by NDTV staff and is published from a syndicated feed.)