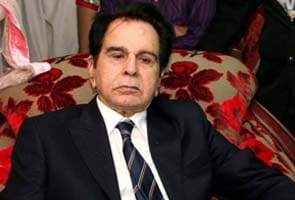 Mumbai:
Legendary Bollywood actor Dilip Kumar, who was recuperating at the Lilavati Hospital in Mumbai, was discharged on Thursday following improvement in his condition.
The 90-year-old thespian was kept in the intensive care unit (ICU) for ten days after he suffered a myocardial infarction (heart attack) on September 15. The veteran actor had undergone a heart surgery 14 years ago.
"He is better and hence it was decided to take him home," sources close to the actor told PTI.
Born as Muhammad Yusuf Khan, he later adopted the film name of Dilip Kumar. In a career spanning over six decades, Dilip Kumar starred in a variety of films including romantic, drama, comedy and socio-historic. He was crowned as the 'Tragedy King of Bollywood' for playing a doomed lover on screen in 'Devdas', 'Madhumati' and 'Ganga Jamuna'.
His other memorable films include 'Naya Daur', 'Mughal-e-Azam', 'Ram Shyam', 'Kranti', 'Mashaal', 'Baabul' and 'Jogan'. His last film was 'Qila' in 1998.
The actor was honoured with the Padma Bhushan in 1991 and Dadasaheb Phalke Award in 1994 for his outstanding contribution to Indian cinema.
Also, he was awarded the Nishan-e-Imtiaz, the highest civilian award conferred by the government of Pakistan in 1998.