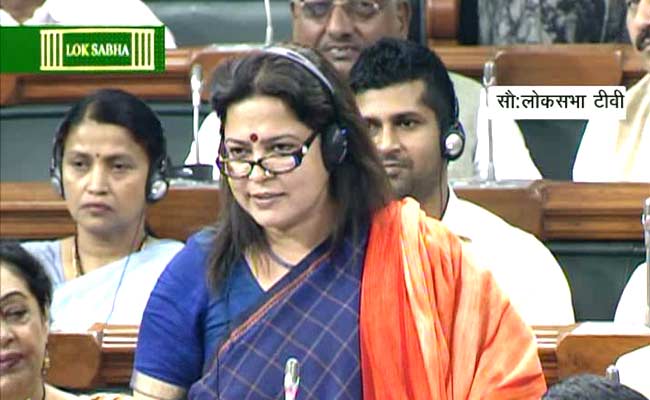 New Delhi:
With assembly elections in Kerala round the corner, the BJP today went hammer and tongs in the Lok Sabha against the Left parties projecting them as the "witch" in the fairy tale of India's growth story.
"When we were children, we saw some witch or some demon in the fairy tales. Likewise, there are witches in every growth story," BJP lawmaker Meenakshi Lekhi said while initiating the discussion on the Motion of Thanks to the President for his address.
Amid sharp protests from CPI(M) members, Ms Lekhi listed out killings allegedly committed by Left cadres in the southern poll-bound state and accused them of committing "atrocities on campus" and "white-washing their brutalities through repressive policies".
"They have committed Taliban fashion of executions," she alleged, amid vociferous protests by Left members.
The attack on the Left also came against the backdrop of CPI(M) and its allies being in the forefront in targeting the BJP and the Centre over the Jawaharlal Nehru University (JNU) row.
Ms Lekhi said while the Narendra Modi government was making strides amid a volatile global economic scenario, the Left parties keep raising issues to "derail" development.
The attack on the Left came soon after the Prime Minister entered the House and a BJP lawmaker passed on some papers to Ms Lekhi, apparently reminding her to raise certain issues.
Japan has given Rs 82,000 crore (USD 12 billion) worth package for infrastructure development activities, including for the bullet train project, Ms Lekhi said.
"With 7 per cent GDP growth, India is emerging as a leader in the global economic sphere despite adverse international conditions," Ms Lekhi said.
Highlighting various initiatives taken by the government including 'Make In India', Ms Lekhi said very few countries are poised like India to take the economic leap.
India's economy is USD two trillion and USD eight trillion on PPP (Purchasing Power Parity) basis, she said, adding that through 'Make In India', the Prime Minister wants to make the country a global manufacturing hub.
On foreign policy, she said the government has done immense work barring a few glitches in neighbourhood but did not elaborate.
Referring to the recent terror attack in Pathankot, Ms Lekhi said it was one of the worst and the government had handled it very differently. The country has to face state as well as non-state actors in dealing with terrorism, she noted.
(This story has not been edited by NDTV staff and is auto-generated from a syndicated feed.)