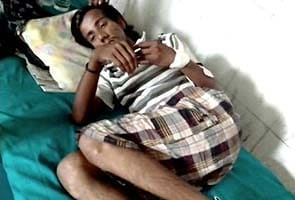 Siliguri:
The West Bengal Human Rights Commission today ordered an inquiry into the chaining of an SFI student leader to his bed at a state-run hospital in Siliguri while in judicial custody.
Inspector General of Police (North Bengal) Anuj Sharma has been asked to conduct the inquiry and submit the report within two weeks with the specific observation of the IGP, Commission sources said.
The first year student, Santosh Sahani, was arrested on April 10 after a clash between Trinamool Congress and Left supporters in Siliguri.
He fell ill while in judicial custody on Monday and was admitted to the North Bengal Medical College and Hospital.
Live footage of Mr Sharma chained to the bed was shown on television. The manacle was later removed following uproar that it was a case of human rights violation.
The police had stated that the jail authorities should be questioned as he was in judicial custody and it was not a police matter.