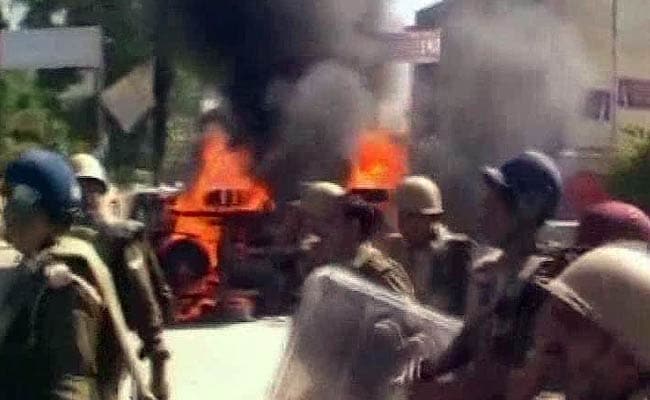 Allahabad:
An advocate was shot dead and another critically injured by a sub-inspector inside a district court premises in Allahabad today, following which lawyers went on a rampage, hurling stones at administrative officials and resorting to arson.

The incident took place in the afternoon when Sub-Inspector Shailendra Singh brought a criminal to the court for a hearing. Mr Singh, according to the police, had an altercation with some of the lawyers present in the court.

This reportedly led to the officer's manhandling who is then alleged to have fired with his service weapon at Advocate Nabi Ahmad, from a close range. Another lawyer standing with him is reported to have sustained gunshot injures on his foot.

"According to some advocates present at the time of the incident, the sub-inspector open-fired in self-defense when some lawyers threatened to beat him up," says Mrityunjay Mishra, Allahabad Police Spokesperson.


Enraged after the incident, lawyers resorted to violence at Allahabad District Court, the High Court and at the office of Senior Superintendent of Police. Angry lawyers blocked traffic and torched at least four government vehicles on the Allahabad-Kanpur highway. About 10 lawyers were injured when police resorted to lathicharge in the court premises.
The agitation at the High Court was pacified only after a group of senior High Court judges visited the spot and assured that they would personally visit the district court and take stock of the situation. Lawyers in Lucknow also gathered outside the High Court in protest and burnt a poster of Uttar Pradesh Chief Minister Akhilesh Yadav.
Mr Yadav has directed senior police officials and the District Magistrate to book the culprits and a compensation of Rs 10 lakhs for Mr Ahmad's family has also been announced.