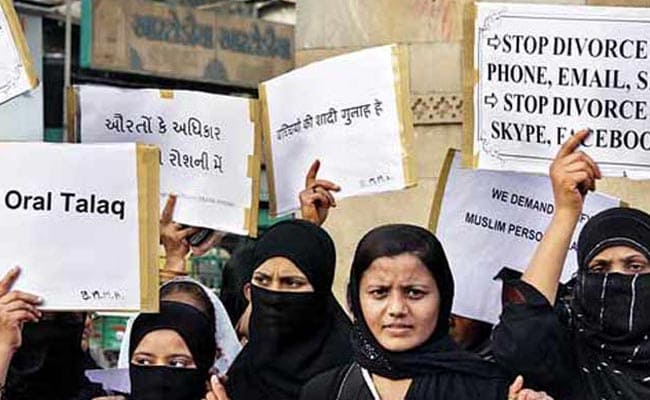 Highlights
Triple talaq so far legal in India, used to end Muslim marriages
Strips women of basic rights, must not be allowed: centre
5 judges of different faiths to deliver verdict today at 10:30 am
New Delhi:
Whether the controversial Islamic practice that allows men to leave their wives immediately by stating "
talaq
" (divorce) three times should be banned will be decided by five judges of the Supreme Court today at 10:30 am. Triple
talaq
has so far been legal for Muslims according to the Constitution, but several Muslim women who have been divorced because of it, including on Skype and on WhatsApp, have appealed to the top court to end the practice. The triple talaq verdict is awaited from the Supreme Court
Here is your 10-point cheat-sheet to this big story:
The Supreme Court has for the first time reviewed whether triple talaq is fundamental to Islam and therefore legally binding. Critics say it leaves women destitute and robs them of basic rights. "We told the court that the practice has no basis in the law or in the Quran," said Balaji Srinivasan, a lawyer for Shayara Bano whose husband split from her by writing "talaq" three times on a piece of paper.

The verdict is being delivered by a panel of five judges from different major faiths - Hinduism, Christianity, Islam, Sikhism and Zoroastrianism. Arguments concluded in May.

India allows religious institutions to govern matters of personal law - marriage, divorce and property inheritance - through civil codes; so far, triple talaq has been considered a legal avenue for the country's nearly 180 million Muslims to end marriages.

But Prime Minister Narendra Modi's government has backed the petitioners in this landmark case, declaring triple talaq unconstitutional, and derogatory and discriminatory for women. In different public speeches, PM Modi has spoken against the practice, pledging to protect the right to equality of all women.

The BJP has long pushed for a uniform civil code to be enforced which would end the reach of different religious laws in civil issues, sanctioned originally to protect the independence of different faiths.

Some Muslim groups have been critical of any attempts to meddle with religious laws, arguing it curtails their constitutional right to govern their affairs. The All India Muslim Personal Law Board (AIMPLB), a non-governmental body which oversees the application of Muslim personal law, opposes any ban on triple talaq and argues this is a religious matter and not for the courts.

"Triple talaq is reprehensible and sinful way to divorce, and we have spoken against it, but we want the court and government to stay off," AIMPLB's convener Zafaryab Jilani told news agency AFP ahead of the verdict.

Judges have heard the argument that some Islamic scholars say there is no mention of triple talaq in the Quran, which instead details a different process for divorce based on mediation.

The Islamic instant divorce has come under increasing criticism as unconstitutional by violating the right to equality. Reports have emerged of men divorcing their wives via Skype, WhatsApp and text message, leaving families destitute.

Campaigners have sought a ban on quick divorces although statistics on the prevalence of the practice are unclear with critics suggesting the numbers are low. "But even if one woman is divorced in this manner, it is a problem," said Noorjehan Niaz of Bharatiya Muslim Mahila Andolan, one of the petitioners in the Supreme Court case.