Patna:
Highlights
Lalu Yadav's son, Tejashwi, refuses to quit Bihar government
He is accused of graft by the CBI; Nitish Kumar wants him to resign
Nitish Kumar asks his other ally, Sonia Gandhi, to decide what next
The shape of Chief Minister
Nitish Kumar's government in Bihar
will be determined by whether his 28-year-old deputy, Tejashwi Yadav, complies with broad hints to resign after being
accused of corruption by the CBI
. Today, the focus of political parties is on ensuring their lawmakers back
their choice for President of India
and do not vote for the other side in the election for the country's highest office. After that, sources said, the Congress will look at whether Tejashwi Yadav can be purged by Nitish Kumar or whether "coalition dharma" requires a voluntary opt-out by the young politician.
Bihar is run by three parties: Tejashwi Yadav's father, Lalu Yadav, brings the most lawmakers to the table; next is Nitish Kumar's party, the Janata Dal United or JDU; the Congress is the smallest player, but its chief, Sonia Gandhi, has been asked to mediate the current standoff, now nearly 10 days old. The Chief Minister is reportedly upset that Tejashwi Yadav has not sought a meeting with him to discuss the corruption case. The Congress, for its part, feels both sides are being obstinate.
Auguring the scale of the crisis - and the difficulty of downgrading it - Nitish Kumar has cancelled a trip that was scheduled for this week to Delhi. Though the agenda was to meet his party's national executive, he was expected to meet on the sidelines with Sonia Gandhi to signal his commitment to exhausting all options before he ends the current alliance. Sharad Yadav, a senior leader from his party, met with Sonia Gandhi on the weekend; today, he tweeted, "Corruption is menace & stringent action should be taken but action needs to be taken against all and not against selected and in opposition."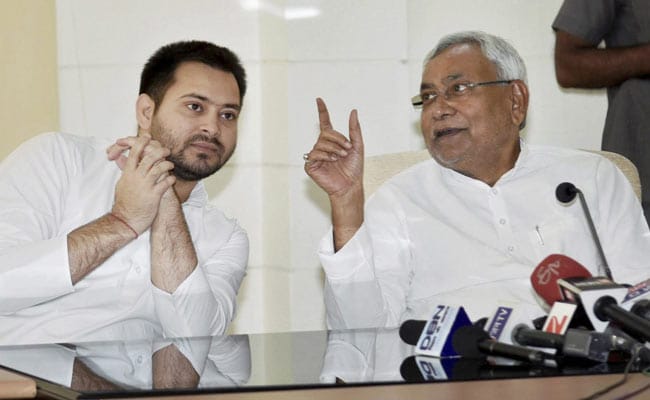 On July 7, Lalu Yadav's Patna home and other properties were
raided by the CBI
which says that he abused his earlier term as union Railways Minister to acquire valuable real estate at throwaway prices for his children including Tejashwi Yadav. While other opposition leaders including Sonia Gandhi backed Lalu Yadav's contention of the case being an instrument of political vendetta by Prime Minister Narendra Modi, no such agreement came forth from Nitish Kumar, who said the Yadavs' defence was inadequate and implied that Tejashwi Yadav should resign.
The Yadavs and their party, the Rashtriya Janata Dal or RJD, have said it's unfair to expect a resignation based on accusations by the CBI. No evidence has been offered thus far, they claim, because the agency has not yet produced a chargesheet which would mean a case is filed in court. But Nitish Kumar says that his "zero-tolerance towards corruption" policy cannot be undermined. On Friday, his aides confirmed that he had phoned Sonia Gandhi to suggest she lead the negotiations for a resolution.
"There's no question of making any concession," said Sanjay Singh, a spokesperson for the Chief Minister's party, as the Congress' top leader in Bihar, Ashok Chaudhary, confabulated with both warring parties.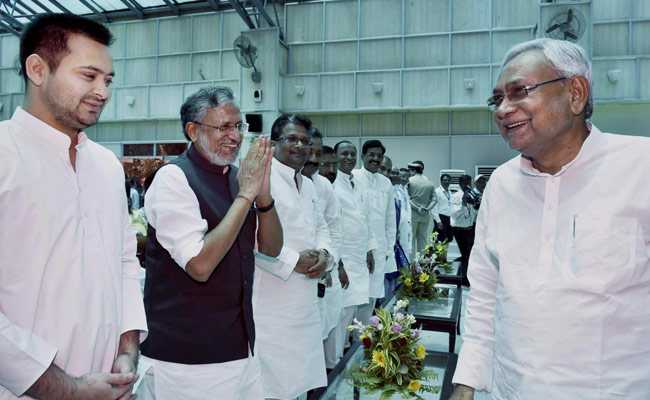 Lalu Yadav, sources say, is contemplating pulling all 12 ministers, including Tejashwi and his older brother Tej Pratap from the government; however, he would, in that case, provide external support or vote with Nitish Kumar's JDU on policy issues and a trust vote for the Chief Minister. That would allow him to retain some authority while his children are being investigated for graft, and test
Nitish Kumar's resistance to rival BJP
, which in recent months stands considerably depleted.
Apart from enthusiastically espousing Prime Minister Narendra Modi's November decision to ban high-denomination notes, Nitish Kumar has chosen to back the
BJP's candidate for President of India
in today's election, which means he is voting against his allies who have put up their own nominee.
The BJP has abandoned any coyness and said that it is also ready with external support should Nitish Kumar cut short the run of his current arrangement. Sources close to him say he wants to convey that he gave his best to saving the alliance in Bihar before exiting it; sources in Lalu Yadav's party, on the other hand, say their boss will try to expose Nitish Kumar's anti-BJP credentials as feigned by refusing to cut off support to the Bihar government.
Get Breaking news, live coverage, and Latest News from India and around the world on NDTV.com. Catch all the Live TV action on NDTV 24x7 and NDTV India. Like us on Facebook or follow us on Twitter and Instagram for latest news and live news updates.