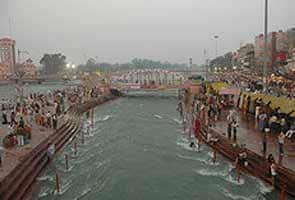 Lucknow:
Pilgrims visiting the Kumbh mela this year will be a happy lot as the event will last for 55 days as compared to last year's 44.
Uttar Pradesh Chief Minister Akhilesh Yadav said that as compared to the last Kumbh which lasted for 44 days, this time the mela would be of 55 days and the turnout of pilgrims and tourists is likely to increase by 25 per cent.
The CM also directed industrial units, which may pose a threat of water pollution, to remain closed during the mela period.
The directive was issued by Mr Yadav during a meeting to review preparations for the mela, slated to start from January 13 next year in Allahabad.
He said that there should be no shortage of water in rivers at Sangam for the holy dip.
For Kumbh, 333 projects of 10 departments would be implemented of which 162 works would be executed at the mela site, and this time 25 per cent more works and resources would be used, he said.
The CM said that a correct assessment of number of visitors should be made through satellite and size of projects should be decided accordingly.
He directed that along with sign boards, audio video systems should be installed so that those who cannot read could get information regarding the mela site.
Mr Yadav said that as huge power was consumed during mela period, a proposal to install LED lights should be considered and availability of maximum electricity should be ensured.
Efforts should be made to make arrangements for 4G internet facility during the mela. Besides this, call centres and information centres would be set up, the CM said.
Speaking on the occasion, Urban Development Minister Mohammad Azam Khan directed the Jal Nigam officials to complete sewage work by November.