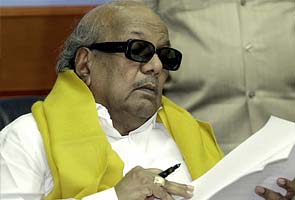 Chennai:
Blaming ruling AIADMK over delay in the commissioning of Kudankulam Nuclear plant, which is mired in a controversy following protests from anti-nuclear lobby, DMK president M Karunanidhi urged the state and Central governments to take all steps to commission it immediately.
"The people should notice the escapist attitude of the state government, which is doing nothing to commission the plant but blames the Centre besides writing letters. Without further delay, Central and state governments should make all efforts to immediately commission the plant," he said.
The DMK president, who recalled the AIADMK's 2011 Assembly election promise of 'lightening up a dark Tamil Nadu,' asked why the government was remaining silent to his questions over whether it was supporting or opposing the anti-nuclear movement demanding closure of the plant on safety concerns.
"While she has not responded to my doubt if this government was supporting the agitation, the Chief Minister invites the protesters for talks and is also mum on the report by the state-appointed expert panel (on this issue)," he said.
The Nuclear Power Corporation of India Limited had said it was facing losses of Rs five crore per day following the months-long protest, he said, adding, "it is not clear why AIADMK government has not taken any decision in this matter."
While she blamed his previous government, especially himself, for the power cuts, people were now experiencing all the more a difficult situation and this had affected all sections of society, he said in a statement here.
Mr Karunanidhi had on February 29 accused the Jayalalithaa government of extending "silent support" to the protests against the Indo-Russian project.