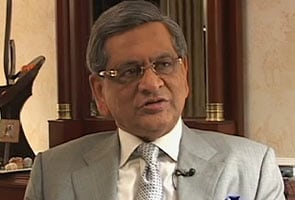 Melbourne:
India's External Affairs Minister S M Krishna has upped the ante ahead of the Foreign Secretary level talks with Pakistan in Bhutan just a few weeks from now in February.
Speaking to ABC News Australia, Krishna reiterated India's stated position.
Krishna said, "Pakistan is the epicentre of terrorism and responsible for aiding terrorists."
While Pakistan has been calling for substantive dialogue to resume, India has all along maintained that Pakistan must act against those responsible for the Mumbai terror attacks.
Earlier, in a wide-ranging interview with 'The Age', the External Affairs Minister had lashed out at Pakistan, accusing it of supporting the Taliban in Afghanistan and providing a haven for extremists. Krishna, who was in Afghanistan ten days ago, said India, was under constant threat in the country, with its embassy regularly attacked. He said Pakistan continued to support the Taliban as its ally and a solution to the conflict could only be found once Pakistan abandoned its patronage of the insurgents.
(With PTI inputs)