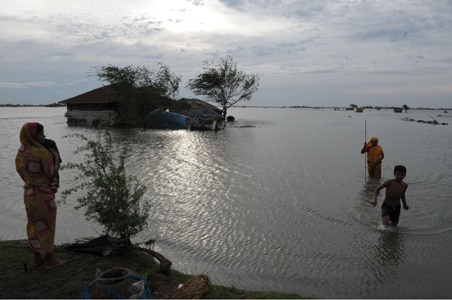 Kolkata:
The city woke up to a sunny morning after being hit by cyclone Aila, which left a trail of destruction and claimed 23 lives.
The fear of the cyclone and its after effects are over, regional MET director G C Debnath said.
However, due to the cyclone that hit the region on Monday, the monsoon has set in Gangetic West Bengal a fortnight before schedule and there is a possibility of rain on Tuesday.
The monsoon usually arrives in Gangetic West Bengal on June 8.
The city is fast coming back to normal with schools, markets and offices opening, Deputy Commissioner (HQ) Javed Shamim said.
Six persons were killed in the city on Monday due to the cyclone.
Uprooted trees were found in some areas of the city while water logging was reported from several areas of the city and suburbs.
The cyclone spawned from a deep depression in the Bay of Bengal to hit West Bengal, affecting a population of 1.10 lakh.