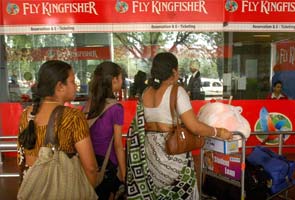 New Delhi:
Employees of the cash-strapped Kingfisher Airlines have withdrawn a threat to strike if they are not paid salaries due to them since December by 8 pm tonight.
The deadline was set by employees in writing yesterday to Kingfisher owner Vijay Mallya. In their "appeal" to Mr Mallya, the employees, pilots included, had said yesterday that their financial stress could affect safety. However, Mr Mallya reportedly met representatives of the employees in Mumbai last night and persuaded them to cooperate with him.
He reportedly reassured them that the money owed to junior staff, including those involved in ground handling and security, will be paid by tomorrow. Accounts for pilots and engineers will be cleared early next week, he said, repeating what he had offered in a letter dated February 27 to employees.
Kingfisher is operating a curtailed summer schedule of about 100 daily flights with 16 planes.
Five Kingfisher flights were cancelled yesterday.
Kingfisher owes $1.3 billion to lenders including the State Bank of India and ICICI Bank. Mr Mallya is under pressure from his airline's lenders to inject equity into Kingfisher, which has slashed its flight schedule and grounded most of its fleet.