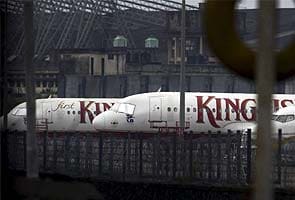 New Delhi:
Aviation regulator Directorate General of Civil Aviation (DGCA) has suspended the flying licence of Kingfisher Airlines for failing to come up with a viable financial revival plan. The Vijay Mallya-promoted airline, which has not operated a single flight since October 1, had been asked to explain by today why its licence should not be suspended or cancelled. But its response to the show cause notice issued by the regulator was not satisfactory. The airline had asked for more time and a personal hearing, but gave no details on a financial plan or operational plans, which is what the DGCA had asked for.
On Friday, the airline said it was extending its partial lockout until October 23. A statement issued later said, "The management hopes to resume operations on November 6."
On Wednesday the regulator rejected Kingfisher's winter schedule and its slots will be redistributed.
The airline was forced to declare a lockout and suspend flight operations after its 250 engineers went on strike on September 30. They were later joined by pilots. The employees are protesting against non-payment of salaries and dues, and have said that work will resume only after all dues are paid and assurances are given that salaries will be paid on time. The airline last paid some of its employees salary in March this year; for seven months no one has been paid.
Several talks between the staff and the management have failed and so the impasse has continued. A crucial meeting on Thursday last too remained inconclusive. The management has offered payment of a month's salary, but the staff say that is unacceptable.
Friday's statement quoted Prakash Mirpuri, Kingfisher's vice-president of corporate communications, as saying, "We had a positive meeting with employee representatives on October 17 and are hopeful of reaching common ground when we meet again next week."
Shares in Kingfisher Airlines dropped 4.8 per cent on Friday ahead of the October 20 deadline to respond to the civil aviation authorities. The DGCA had told the airline on October 5 to demonstrate why its permit to fly should not be suspended or cancelled for failing to establish a "safe, efficient and reliable service", and gave it 15 days to reply.
The airline currently has only 10 operational aircraft compared to 66 planes a year ago. It is reeling under a $1.4 billion (Rs. 7,524 crore) debt and has accumulated operating losses of Rs. 8,000 crore.
Earlier this month, lenders to the airline earlier this month agreed to release Rs. 60 crore from an escrow account to keep the airline afloat. An escrow account, which prevents a default in loan obligations by a company, ensures that funds received by a company cannot be accessed by it but goes directly to the lenders. After the restructuring of loans to Kingfisher Airlines in 2010-11, its lenders had taken charge of cash flows, including funds received through ticket sales. The airline needs Rs. 55 to 60 crore to pay salaries for two months.