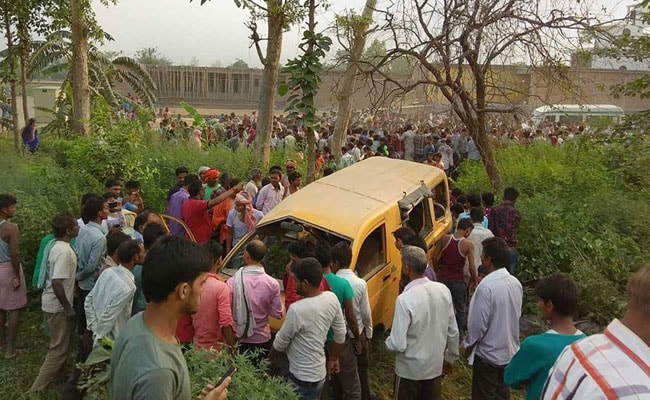 Highlights
13 children died when a bus crashed into a speeding train in Khushinagar
9-year-old survivor said he told the driver repeatedly to stop
Yogi Adityanath ordered inquiry, headed by the Gorakhpur Commissioner
Kushinagar:
The school children travelling in a van that crashed into a speeding train in Kushinagar today, leading to the death of 13 children, had repeatedly asked the driver of their vehicle to stop but the man did not listen as he was busy on the phone, a nine-year-old, who survived the accident said.
"We kept shouting, urging uncle (driver) to stop, but he did not, as he was very busy on phone and was unable to listen us," Krishna Verma, one of the boys who survived, said.
The boy suffered a leg injury, but survived the deadly collision while many of his friends did not. His sister Roshni is in a critical condition. Both of them are admitted in BRD Medical College, Gorakhpur.
"Krishna had suffered a leg injury and is out of danger, but the other three children received head injury and are in critical condition," Dr Ganesh Kumar, principal of BRD Medical College said.
Dr Kumar said that even the driver had received multiple fractures as well as a head injury. His condition too is very critical, he added.
Earlier, Chief Minister Yogi Adityanath, who visited Kushinagar following the news of the accident, had also told reporters that the van driver appeared to be at fault.
"He is said to have had earphones on... all facts will be known in the inquiry headed by the Gorakhpur Commissioner," he said.
Some of the eye witnesses had also commented that onlookers had tried to stop the driver from heading towards the unmanned railway crossing but he paid no attention to them.
Thirteen children on their way to the Divine Mission School were killed today when their van collided with the Thawe-Kapatanganj passenger train at around 7 am, leaving blood-splattered bodies, water bottles and school bags strewn around.