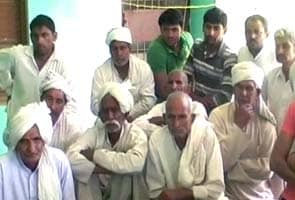 New Delhi:
The Supreme Court today said that Khap panchayats' diktat on dress code for women and asking them not to carry mobile is unlawful.
A bench of justices Aftab Alam and Ranjana Prakash Desai said such diktats are against the fundamental right to life and asked Khap Panchayats (caste-based councils) to file their replies on the issue.
"It (such diktat) also violates the law. How can someone ask others not to carry mobile," the bench asked when the Centre told it that such orders are being passed by them against women.
Leaders of various Khap Panchayats of Uttar Pradesh and Haryana today appeared before the Supreme Court in response to its invitation, extended during its last hearing to them to express their views. They told the court that 'very distorted facts' have been projected about them in the court.
Top police officers from Uttar Pradesh and Haryana also appeared before the Supreme Court and submitted that although Khaps issued some socially retrograde resolutions but they were never directly involved in 'dishonour killings.'
Additional director generals of police (law and order) of Haryana and Uttar Pradesh said Khaps also play positive roles at times like passing resolution against foeticide.
The court was hearing a PIL filed by an NGO
Shakti Vahini
seeking court's direction to the government to take action against Khap Panchayat for allegedly harassing and killing couples, particularly women in name of family's honour for entering into inter-caste or intra-gotra marriages.