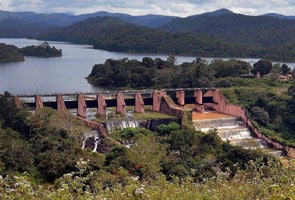 Chennai:
The Union Water Resources Ministry has convened a meeting in New Delhi today to discuss the Mullaperiyar dam row with officials of Kerala and Tamil Nadu.
But the Tamil Nadu government had issued a statement on Saturday saying its officials will not participate in the informal discussions. "It has already been decided that Government of Tamil Nadu will not participate in the informal discussion on Mullaperiyar Dam issue in New Delhi on 5.12.2011," a statement from Chief Secretary Debendranath Sarangi had said.
The dispute has escalated with Kerala government hardening its stand to demand construction of a new dam and Tamil Nadu reiterating its stand that the retrofitted existing dam is similar to a new dam.
According to Tamil Nadu, the Kerala ministers and officials are creating a fear psychosis in their state about the dam's safety.
With the chief ministers of Tamil Nadu and Kerala writing letters to Prime Minister Manmohan Singh on the issue, the Central government had thought of arranging a meeting between the officials of two states on December 5.
The Supreme Court-appointed Empowered Committee will also be meeting in New Delhi today to finalise its report. The report will be submitted to the court.
(With IANS inputs)