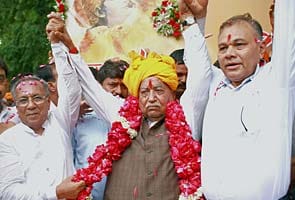 Ahmedabad:
Keshubhai Patel formally announced the launch of his new party after he resigned from the BJP on Saturday. His new party is called Gujarat Parivartan Party, and will contest the assembly polls early next year.
On August 4, Mr Patel, along with former union minister Kanshiram Rana, sent their resignation letters to the party high command, only months ahead of the assembly elections in the state.
Mr Patel said he is unhappy with the way the party functions now. He said, "I am leaving with a lot of pain. The present BJP has gone miles away from democracy and has become insensitive towards the people."
He said, "In this situation, I cannot remain silent and be a mute spectator and that is the reason I have decided to form a new party which will be the real BJP. At this ripe age, I am not forming a new party for power as people have given me enough. My only aim is to give a better alternative to the people of the state."
Mr Patel's decision to float a new party could see a realignment of anti-Modi forces in the state months ahead of the assembly polls with Mahagujarat Janata Party of former state minister Gordhan Zadafia likely to merge with it. Patel is said to be still enjoying the backing of sections of the Sangh family, including RSS pracharaks and VHP volunteers. Support for him is likely to grow when Mahagujarat Janata Party merges with the new party. Zadafia, while pledging support for Patel, had recently said he would merge his party with the new outfit. Sources close to Mr Patel said his new party will field candidates in all the 182 assembly seats.