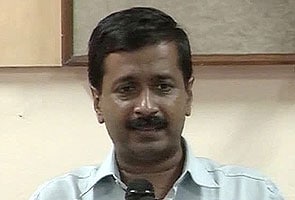 New Delhi:
Arvind Kejriwal, who is the closest aide to anti-corruption crusader Anna Hazare, has paid the government a fine of nine lakhs that had been imposed upon him by the Income Tax department.
Mr Kejriwal has written a letter to the Prime Minister, protesting against the penalty. "Just because I am paying," he writes, "doesn't mean I accept my guilt. I don't even know what crime I have committed." (
Arvind Kejriwal's Letter to Prime Minister
)
He says that he is being targeted for taking on the government through the hugely-popular Indian Against Corruption campaign that he is fronted. He says he has raised the money to pay his fine through donations from friends. He attaches a list of their names and urges the PM, "With folded hands, I appeal to you to ensure that the government does not target these people now."
Mr Kejriwal has been sent notices by the Income Tax department which said he had violated the terms of his duty when he worked for the Indian Revenue Service. In November 2000, he took study leave for two years - he was paid during this period. In return, he was told that once he returned to work, he would owe the government three years of service. However, the government says that in 2003, Mr Kejriwal went on unpaid leave for two years. He quit the IRS in 2006. The penalty of nine lakhs included interest on the salary that was paid to him during his study leave.
Mr Kejriwal, however, tells the PM that when he returned to work in November 2002, he was "not given a posting for a year." He says that instead of drawing a salary and not being given any assignments, he chose to take unpaid leave, during this period, he says, he actively campaigned for the Right to Information Act. For his work, he says, he received the Magsaysay Award. But his own government, he says, is punishing him for his efforts.
The activists who are working with Mr Hazare have repeatedly said that the government is trying to discredit and divert them by character-assassination.