New Delhi:
Highlights
The BJP won 181 of the total 272 wards across 3 municipal bodies
BJP chief Amit Shah said the win was the 'foundation' for next elections
The BJP won only 3 seats in the 2015 Delhi assembly election
Delhi's mandate for his party in the civic elections last week is the nation's mandate, BJP chief Amit Shah said on Tuesday, saying the massive win is another stamp of approval for Prime Minister Narendra Modi's work at the Centre. Mr Shah also wrote off the Aam Aadmi Party, which came a feeble second, mocking Delhi Chief Minister Arvind Kejriwal for blaming his party's drubbing on electronic voting machines or EVMs.
Delhi was won for the BJP by its booth-level workers, Mr Shah said at a celebration of his party's win with party workers and new corporators in the capital. The BJP has won 181 of 272 seats in three corporations. AAP could win only 48.
"Kejriwal-ji might blame EVMs for our victory, but to know the real reason, meet our booth in-charge," said Mr Shah, whose winning strategy in Delhi included sacking most sitting corporators to beat any anti-incumbency sentiment after 10 years of the BJP dominating the Municipal Corporation of Delhi or MCD.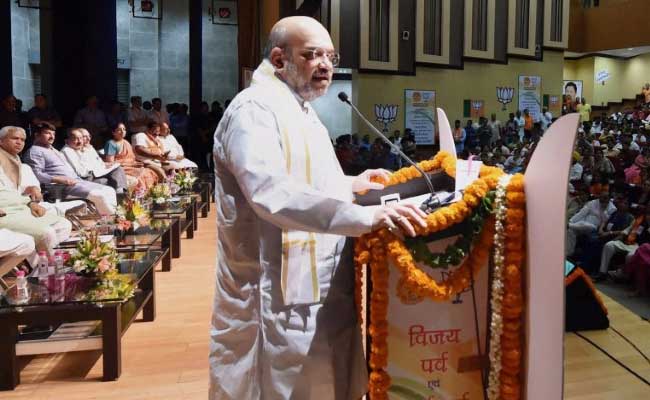 The Aam Aadmi Party had, in allegations now toned down, said after the MCD election results that rigged EVMs aided the BJP's re-election to Delhi's three corporations.
Mr Kejriwal has since embarked on an organisational shake-up and outreach at the grassroots to rebuild his party, which is reeling from multiple election defeats. Earlier this year, it failed make a dent in Punjab, where Mr Kejriwal had expected to establish a second AAP government after Delhi. In Goa, the party could not win a single seat.
Just two years ago, Mr Kejriwal's party had shocked the BJP winning 67 of Delhi's 70 seats. The BJP could win only three. The Delhi assembly elections had put the brakes on the BJP's winning since its victory in the 2014 national elections, and the party, still smarting from the huge defeat, had launched a campaign to win the civic polls on the scale of a state election.
Mr Shah said today that the BJP's victory was the "foundation" for the next assembly elections in Delhi. "The mandate of the national capital is the nation's mandate. It establishes once again that the people of India are firmly with Prime Minister Narendra Modi," he added.
Get Breaking news, live coverage, and Latest News from India and around the world on NDTV.com. Catch all the Live TV action on NDTV 24x7 and NDTV India. Like us on Facebook or follow us on Twitter and Instagram for latest news and live news updates.