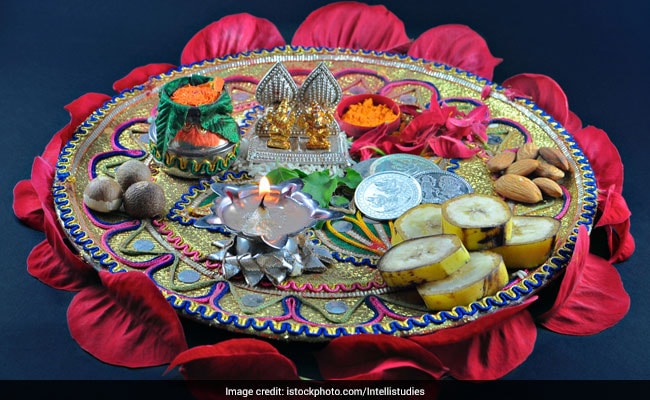 Highlights
Karwa Chauth 2017 will be celebrated on 8th October
The festival falls in the month of Kartik as per the Hindu calendar
The mother-in-law presents a thali of sweetmeats and savouries as Sargi
Karwa Chauth or Karva Chauth is a significant festival, especially for Hindu married women.
Karwa Chauth 2017 will be celebrated on 8th October
. The festival falls in the month of Kartik as per the Hindu calendar. Karwa Chauth is celebrated by married women during which they observe a
nirjala vrat
(fast without food and water) for the whole day until they sight the moon. They pray for the safety and longevity of their husbands by observing this fast. Most women, especially Punjabis, receive
Sargi
from their mother-in-law.
Sargi
is an important traditional pre-dawn meal prepared by the mother-in-law for her daughter-in-law to bless her on this special day.
On this special day, we will tell you when the Karwa Chauth Puja Muhurat starts. The Muhurat starts at 06:03 PM and ends at 07:17 PM. The Moonrise on Karwa Chauth Day is on 08:27 PM. The Chaturthi Tithi begins on the 8th of October on 04:58 PM and the Chaturthi Tithi ends on the 9th of October on 02:16 PM.
Karwa Chauth 2017: What is Sargi?
Women in Northern India, especially in the states of Uttar Pradesh, Rajasthan, Himachal Pradesh, Haryana and Punjab observe dusk to dawn Karva Chauth fast for their husbands. It is a custom for the women to wake up early in the morning before sunrise, that is around 4-5 am, and eat a plateful of savouries and sweets so as to keep going throughout the day without water and food. According to the rituals and traditions, the mother-in-law presents a thali of sweetmeats and savouries to her daughter-in-law only to bless her for the completion of the fast. A Sargi ideally consists of mithai, matthri, dry fruits, coconut and some gifts like sarees, jewellery and others.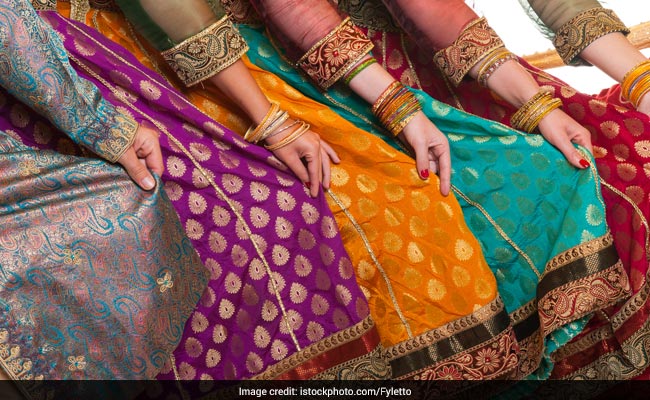 Sargi, Karva Chauth 2017: A Sargi ideally consists of mithai, matthri, dry fruits, coconut and some gifts

Karva Chauth Thali Items: What Foods Does Sargi Include?
Sargi is basically a collection of delightful foods. Here's what a thali of Sargi consists of-
1. Fresh Fruits
Juicy and fibrous fruits are given in order to stay full for longer and stay hydrated, considering it is a nirjala vrat that women have to keep.
2. Mithai
Ideally, married women observing the Karwa Chauth fast should start the day with something sweet. So, generally the mother-in-law makes halwa, pheni or rice kheer so that the daughter-in-law starts the day on a sweet and positive note.
3. Dry Fruits
Dry fruits are considered healthy and full of important nutrients. A handful of these dry fruits help them keep going through the day. Generally, dry fruits like almonds, cashew nuts and kishmish are added in the platter.
4. Cooked Food
Light food is prepared, which may include chapatti, cooked vegetables, halwa, etc. This helps to fill her tummy and keep active through the day.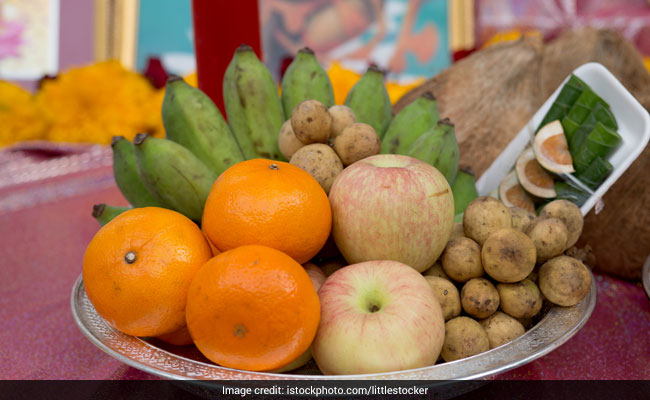 Sargi in Karwa Chauth: Juicy and fibrous fruits are given in order to stay full for longer

Karwa Chauth 2017: Important Points to Remember During Sargi
Add a lot of foods to Sargi, as they will help keep the person hydrated and energetic all day.
One should refrain from adding oily and fried foods to the Sargi right in the morning, as they may make you feel lethargic and dizzy all day long.
Include as many fluids as you can during Sargi. Include fresh juices, milk, buttermilk, green tea so as to stay hydrated during the day. Avoid drinking coffee or tea as they dehydrate the body soon.

While you are fasting, do not forget that your body requires important nutrient intake through the day, hence, while you are savouring sargi, make sure you are stuffing yourself with the right and healthy foods.