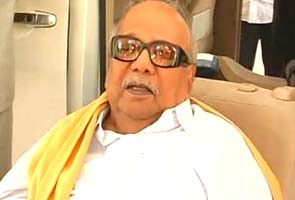 New Delhi:
The countdown to the elections in Tamil Nadu has begun. DMK chief M Karunanidhi is in the capital to discuss the final seat-sharing arrangement with the Congress. He has met the prime minister and will meet Sonia Gandhi later in the day.
The Tamil Nadu Chief Minister arrived with his daughter Kanimozhi and a few Cabinet colleagues in Delhi on Sunday on a three-day visit.
The state assembly elections are slated for May in Tamil Nadu.
The Congress got 48 seats during the 2006 assembly polls in Tamil Nadu. Now, the party is expected to demand more including share in power if the DMK is voted back to power.
The DMK chief on Sunday also confirmed that the Pattali Makkal Katchi (PMK), will be a part of the DMK led alliance for the forthcoming elections.
The Tamil Nadu Chief Minister will also raise the issue of the two Indian fishermen who were allegedly killed by Sri Lankan Navy, with the Prime Minister and ask him to tell Colombo not to resort to firing.
(Read: Karunanidhi to take up killing of fishermen with PM)
After the sacking of Telecom Minister and DMK leader A Raja, the relation between the two parties have been strained. Even during the Cabinet reshuffle, the Congress didn't give the Telecom portfolio back to the DMK. However, both the parties have maintained that there is no trouble between them and the alliance is intact.