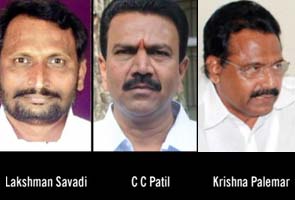 Bangalore:
The three Karnataka MLAs, who were caught allegedly viewing porn in the state assembly nearly a week ago, today sought a week's time to file their replies to Speaker KG Bopaiah on the episode. The trio was supposed to give their explanation in writing today.
The MLAs - Lakshman S Savadi, CC Patil and J Krishna Palemar - sent a letter to the Legislative Assembly Secretariat in this regard. Assembly Secretary P Omprakasha confirmed the receipt of the letters of the three MLAs. "The Speaker (now in his home-town of Madikeri) will come back tomorrow. I will bring it to his notice", Mr Omprakasha said.
The MLAs' version, once formally presented, will then be passed on to the seven-member House panel that was appointed by the Speaker last week to probe the allegation.
On February 7, CC Patil and Laxman Savadi, both of who were former ministers, were filmed by a local channel allegedly looking at explicit pictures on the latter's cellphone during an ongoing debate in the House. Sources say the former ministers allegedly viewed two clips on a phone - one was pornographic, the other was a news story on a rape. According to reports, the person holding the mobile phone in the video clip shown by the channel was Mr Savadi. The person sitting next to him was Mr Patil. The phone allegedly belonged to Mr Palemar, who gave it to Mr Savadi, sources say.
The incident immediately sparked a major political furore. As the Opposition demanded the disqualification of the scandal-hit MLAs from the assembly, the Bharatiya Janata Party (BJP) which heads the government in the state went into a huddle. Flurry of telephone calls at the highest-level and soundbytes carrying promises of appropriate action later, the trio resigned.
The BJP said the ministers resigned voluntarily. The three reportedly said they were keen "to save the party's image". Chief Minister Sadananda Gowda forwarded their resignations to the Governor which was accepted.
Meanwhile, the three MLAs have been barred from attending the Assembly session till the House panel, submits its report on the incident on March 13. The report would then be placed in the Assembly.
Before they quit, Mr Savadi, was the Minister for Cooperation while Mr Patil held the Women and Child Development portfolio. Mr Palemar was the minister in charge of Mangalore.
(With PTI inputs)