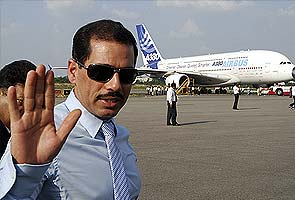 Bangalore:
Virtually coming to the defence of Sonia Gandhi's son-in-law Robert Vadra, facing allegations over property dealings with DLF, Karnataka Governor HR Bhardwaj today said many such charges had been made against the Gandhi family in the past but they "fell like nine pins."
"Many allegations were levelled against the Gandhi family even in the past. Indira Gandhi was also attacked. But she had a towering personality and fought back. Morarji Bhai (late Prime Minister Morarji Desai) made so many cases against her, but they fell like nine pins," he told reporters.
Mr Bhardwaj, a former Union Law Minister, was replying to a question on the allegations levelled by social activists Arvind Kejriwal and Prashant Bhushan of India Against Corruption that realty major DLF had favoured Mr Vadra, who has, however, dismissed it as "utterly false and defamatory."
"The question is people should build their personality in such a way that attack fails," Mr Bhardwaj said, adding "you have to be above controversy and transparent."
Mr Bhardwaj said it was also wrong to level allegations against Prime Minister Manmohan Singh. "Opposition parties should also take note of the Prime Minister's image before launching a tirade against him," he added.
On Arvind Kejriwal's protests on corruption-related issues, Mr Bhardwaj asked "how far people of the country could face civil society members like him and Prashant Bhushan who are taking law in to their hands and dictating terms to solve problems".
"Is Kejriwal an expert? Why do these people go beyond legal and legislative affairs?" he said.
"If I were the Law Minister, I would not allow anybody to do my job of drafting the law by another person. I invited all the major NGOs in my career from the time of Rajiv Gandhi to Manmohan Singh (and tried solving problems through negotiations)," he said.