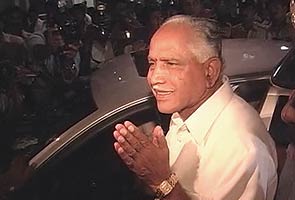 Bangalore:
The monthly salary of Karnataka Chief Minister would jump two-and-a-half times while pay packets of ministers and legislators would double, as per an amendment bill passed in the state Legislative Assembly today.
According to the Karnataka Ministers Salaries and Allowances Act, 1956 (Karnataka Act 5 of 1957), the Chief Minister was being paid a monthly salary of Rs 12,000. The amendment bill takes it to Rs 30,000.
Similarly, Cabinet Ministers' salary would go up from Rs 10,000 to Rs 25,000 and that of Ministers of State from Rs 8,000 to Rs 16,000.
Besides salaries, house rent allowances, conveyance allowances and rates of travelling allowance and dearness allowance have also been revised.
"There is a considerable increase in cost of living. The salary of the Chief Minister, Ministers, Ministers of State and Deputy Chief Ministers have not been revised since a long time," according to the amendment bill's statement of objects and reasons.
There would be an approximate annual expenditure of Rs 2.5 crore by the amendment bill concerning Chief Minister and Ministers, according to Chief Minister B S Yeddyurappa, who also holds the Finance portfolio.
With the opposition Congress and JDS boycotting Assembly proceedings demanding the resignation of Yeddyurappa and Speaker K G Bopaiah over a recent Supreme Court verdict on MLAs' disqualification case, the bill was passed without debate.